INDEPENDENT RETAILER magazine is now the official news outlet for Wholesale Central visitors. Each monthly issue is packed with new product ideas, supplier profiles, retailing news, and business strategies to help you succeed.

See new articles daily online at IndependentRetailer.com.
PSALM23JEWELRY.COM-LAURA K DESIGNS INC. introduces a line of jewelry based on the 23rd Psalm. Well known to nearly everyone, it begins, "The Lord is my shepherd."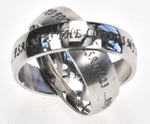 Laura Kramer, the designer, who has her own line of jewelry, was inspired six years ago by her pastor's reference to Psalm 23. She began designing jewelry that put colors to the words in the verses, as a kind of, "memory device." Still waters, for example, is represented by a blue stone; green pastures by green, and a black crystal to represent the shadow of death.
The line became so popular, the designer added different jewelry pieces and a variety of decorative additional options, such as a cross, Star of David, cancer awareness ribbons and prayer boxes. There are now 25 products, and when the different options are included, about 100 different choices.
Most are sterling silver with Swarovski crystals, and some of the rings are stainless steel. Some pieces, including a dog tag necklace, have Psalm 23 written on them. All are individually packaged and contain the written psalm and a CD that explains Psalm 23. The CD runs about an hour and contains portions of the pastor sermon series. It is described as a "message of hope."
The minimum order is $200, and may contain an assortment of designs. Three levels of bestseller packs are available at $250, $500 and $1,000. The company offers a guaranteed buy-back. Any items that are not sold by May 16, 2009, Mother's Day, will be taken back.
The bestselling classic Psalm 23 bracelet with the colored stones wholesales for $35, and the suggested retail price is $70. The dog tag wholesales for $5 and has a suggested retail of $10.
For more information, contact:
Psalm23jewelry.com-Laura K Designs Inc.
7375 Day Creek Boulevard, Ste. 232
Rancho Cucamonga, CA 91739
Toll Free: 877-256-0023
Website: www.psalm23jewelry.com
Entire contents ©2022, Sumner Communications, Inc. (203) 748-2050. All rights reserved. No part of this service may be reproduced in any form without the express written permission of Sumner Communications, Inc. except that an individual may download and/or forward articles via e-mail to a reasonable number of recipients for personal, non-commercial purposes.