INDEPENDENT RETAILER magazine is now the official news outlet for Wholesale Central visitors. Each monthly issue is packed with new product ideas, supplier profiles, retailing news, and business strategies to help you succeed.

See new articles daily online at IndependentRetailer.com.
ROCKET POCKETS INTERNATIONAL INC. introduces Rocket Pockets Water Sport, a game that consists of a 38 inch diameter inflatable circle with 25 pockets and four balls made of marbleized, corked rubber that floats. The objective is to get the balls in the pockets, and once done, they leap out.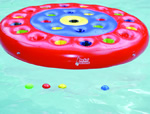 Rocket Pockets has the flexibility to adapt to a variety of other games that can be used in the water or the backyard. It is billed as the only true family game that is designed for play by all ages and all levels of ability. It can be played by two people and as many as eight.
When there is less air in the inflatable circle, there is less bounce. Young players can stand close in order to get the ball in the pocket. Beginning at age two, the game helps improve hand/eye coordination. It does the same for older adults.
There is a red, blue, green and yellow ball. When any color ball gets sunk into the bulls eye pocket, the player gets 50 points. When one color ball drops into the same color pocket, the player gets 50 points. When there's a mismatch between the ball and the pocket, the player gets 25 points. The players can determine how many points constitute a game, and there can be elimination rounds.
While it's great for the pool, water is not required. It can also be used in the backyard. For birthday parties, the pockets can be labeled with a prize. The player that gets a ball in the pocket wins the prize. Rocket Pockets Water Sport has been used for fundraisers and other community events. Each unit is individually boxed with instructions.
The minimum order is a case of six. On orders of one to five cases, the wholesale price is $15 a unit, and it decreases in increments to $12 for orders of 50 cases or more. The suggested retail price is between $24.99 and $29.99.
For more information, contact:
Rocket Pockets International Inc.
10556 Windsor Lake Court
Tampa, FL 33626
Tel.: 813-810-8513
Fax: 813-746-1787
Website: www.therocketpockets.com
Entire contents ©2021, Sumner Communications, Inc. (203) 748-2050. All rights reserved. No part of this service may be reproduced in any form without the express written permission of Sumner Communications, Inc. except that an individual may download and/or forward articles via e-mail to a reasonable number of recipients for personal, non-commercial purposes.