INDEPENDENT RETAILER magazine is now the official news outlet for Wholesale Central visitors. Each monthly issue is packed with new product ideas, supplier profiles, retailing news, and business strategies to help you succeed.

See new articles daily online at IndependentRetailer.com.
EVERGREEN (C.P.) USA, INC. now offers the Player brand of extra heavy duty "green" batteries. They do not contain lead or cadmium and are especially safe for use in toys and household items, such as remote controls, clocks and other battery operated devices.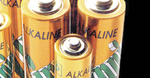 Because they don't contain the usual battery chemicals, they don't pollute landfills and there is no danger of leakage, even if they become damaged. They last as long as alkaline batteries, but are offered at significantly lower prices.
The Player line consists of five popular sizes of batteries: AAA, AA, C, D and 9 volt. The most popular AAA and AA sizes are sold four units to a card, and the card wholesales for 35 cents. The C unit comes two units to a card and wholesales for 45 cents. The D unit also comes two units to a card and wholesales for 55 cents a card. The 9 volt is sold singly on a card that wholesales for 40 cents.
The suggested retail for each version is 99 cents a card, making it ideal for convenience stores and other retail outlets, as well as dollar stores. The minimum order is $100 and can contain an assortment of any Evergreen (C.P.) USA products, including other battery brands.
Shipping is free to retailers who order 50 cases or more of Player brand batteries. There are 120 cards in a case. The order can include cases of all one size or any variation, including 10 cases each of all five sizes.
For more information, contact:
Evergreen (C.P.) USA, Inc.
338 North Canal Street, Unit 8
South San Francisco, CA 94080
Tel.: 650-952-8091
Fax: 650-952-3629
Website: www.evergreencpusa.com
Entire contents ©2023, Sumner Communications, Inc. (203) 748-2050. All rights reserved. No part of this service may be reproduced in any form without the express written permission of Sumner Communications, Inc. except that an individual may download and/or forward articles via e-mail to a reasonable number of recipients for personal, non-commercial purposes.