INDEPENDENT RETAILER magazine is now the official news outlet for Wholesale Central visitors. Each monthly issue is packed with new product ideas, supplier profiles, retailing news, and business strategies to help you succeed.

See new articles daily online at IndependentRetailer.com.
THE LISALEE COMPANY has developed Little Love Books, a series of six different six by nine inch scrap book photo albums, each containing 20 pages. It is easy to custom tailor a book containing photos of loved ones, and each can accommodate up to 25 photos.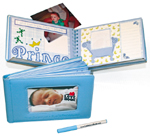 "The Story of a Girl's Beginning" and "The Story of a Boy's Beginning" are designed to commemorate babies first years. The cover of each has a rectangular shape to accommodate a photo of the book's main character.
The "Family and Home" and Wedding books also have rectangular shapes on the cover to celebrate their respective subjects. Another is devoted to Dog, and its cover has a dog bone shaped inset for holding the cover photo. The cover photo inset on the Love book is heart shaped. Additional Little Love Books are being developed.
The minimum order on an opening order is 12 units, which can include any assortment of titles. In that quantity, the wholesale price is $12.50 a unit, and suggested retail price is about $25.
An acrylic stand that holds an open Little Love Book is available for $10. It has a rod that is inserted in the book's spine and allows the pages to be turned. The supplier suggests that retailers put two to four photos in the display books to demonstrate how it works.
For more information, contact:
The Lisalee Company
905 Nandina Drive
Weston, FL 33327
Toll Free: 888-697-8892
Tel.: 954-323-8806
Fax: 905-208-0807
Website: www.littlelovebook.com
Entire contents ©2021, Sumner Communications, Inc. (203) 748-2050. All rights reserved. No part of this service may be reproduced in any form without the express written permission of Sumner Communications, Inc. except that an individual may download and/or forward articles via e-mail to a reasonable number of recipients for personal, non-commercial purposes.