INDEPENDENT RETAILER magazine is now the official news outlet for Wholesale Central visitors. Each monthly issue is packed with new product ideas, supplier profiles, retailing news, and business strategies to help you succeed.

See new articles daily online at IndependentRetailer.com.
HI-DOW INTERNATIONAL introduces two series of massage products: Massage Mouse; Massage Mouse II, which is an upgraded model, and Massage XP, which was designed as a model for professionals, but can also be used by consumers. All have been approved by the Federal Drug Administration.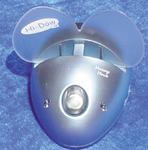 Massage Mouse, named for its shape, operates on a nine volt battery, which is included. It is light weight, portable and designed to fit in the palm of the hand. It is of metal and has a silicone gel pad that touches the skin. When activated, it emits tapping, grabbing and kneading sensations that relieve minor muscle aches and pains.
The user can control the intensity of the sensations, and Massage Mouse can be used on any part of the human body except the face or area immediately surrounding the heart. The ears of the mouse shape are designed to hold documents, so the user can read while easing aches and pains. The minimum order is a case of 24 units. The wholesale cost is $16.80. The suggested retail price is $79.
Massage Mouse II has all the features of Massage Mouse and works in the same way. However, it can utilize three different power sources: battery, a USB connection that runs on computer power, or an ordinary electrical outlet, if fitted with an A/C adaptor.
This model wholesales for $17.80 when bought in a case of 24 units. The suggested retail price is $109. The adaptor wholesales for $7, and has a suggested retail of $19.90.
Massage XP is shaped like an iPod. It can be set to operate for a specified length of time and has an LED screen that indicates the intensity of the sensations. Like the others, this is sold in a minimum of one 24 unit case. The wholesale price is $24.90, and suggested retail is $179.
For more information, contact:
Hi-Dow International
2071 Congressional Drive
St. Louis, MO 63146
Tel.: 314-569-2888
Fax: 314-997-0888
Website: www.hi-dow.com
Entire contents ©2022, Sumner Communications, Inc. (203) 748-2050. All rights reserved. No part of this service may be reproduced in any form without the express written permission of Sumner Communications, Inc. except that an individual may download and/or forward articles via e-mail to a reasonable number of recipients for personal, non-commercial purposes.