INDEPENDENT RETAILER magazine is now the official news outlet for Wholesale Central visitors. Each monthly issue is packed with new product ideas, supplier profiles, retailing news, and business strategies to help you succeed.

See new articles daily online at IndependentRetailer.com.
VIZINI INC. has invented and is the exclusive supplier of Vizini, a sun visor that attaches to sunglasses, safely and effectively shading eyes from the sun without creating a hat line on your hair or giving the wearer a headache. Vizini comes in a wide range of solid colors and prints, including polka dots, gingham plaid and a leopard pattern.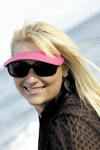 Each end of Vizini slips onto the arm of eyeglasses or sunglasses on either side, which turns the Vizini visor into an arc shape over the eyes. It not only protects the eyes from the sun's rays, but also guards the eye area from aging wrinkles. The minimum order is 36 units. The retailer customer can choose the colors and patterns, and orders ship within three days. The wholesale price on orders of this size is $3.50, and lower with larger orders. The suggested retail price is $9.99. Two acrylic, rotating displayers are available. One, a square box, contains photos of Vizini in use on all four sides, and holds a quantity of Vizini visors in the center, aiding impulse sales. It is offered for $19.95. A larger, eight by 11 inch displayer, which is elliptical in shape, also shows photos of Vizini in use and will hold between 15 and 20 units. It sells for $39.95. For more information, contact:
Vizini Inc.
P.O. Box 668
Round Hill, VA 20141
Tel.: 703-508-8662
Fax: 540-338-3602
Website:
www.vizini.com
Entire contents ©2023, Sumner Communications, Inc. (203) 748-2050. All rights reserved. No part of this service may be reproduced in any form without the express written permission of Sumner Communications, Inc. except that an individual may download and/or forward articles via e-mail to a reasonable number of recipients for personal, non-commercial purposes.