INDEPENDENT RETAILER magazine is now the official news outlet for Wholesale Central visitors. Each monthly issue is packed with new product ideas, supplier profiles, retailing news, and business strategies to help you succeed.

See new articles daily online at IndependentRetailer.com.
WHAT'S UR BAG introduces, its-laS-tik, a line of reusable shopping and grocery bags made of a special flexible nylon and lycra fabric blend. Survivors of Hurricane Katrina make the bags in New Orleans, and five percent of all sales are donated to Hope House in New Orleans.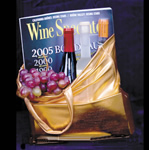 Neither paper nor plastic, the its-laS-tik bags are designed to stretch and take the shape of the contents so the bag moves with you, making the load seem light, regardless of the contents. They bounce as you walk. They spring back into shape when empty and roll up into a compact configuration. They are also washable and come in two sizes and a wide range of solid and metallic colors, as well as in prints. The metallic color choices are bullion, tinsel, shiny penny, midnight metallic silver and skyline. The solids are ice, ocean voyage, fire, cotton candy, daffodil and charcoal, and among the prints are a kaleidoscope, tie-dye, English garden and French Quarter pattern. The bag size unit is 12 by 13 inches and expands up to twice its size. The suggested retail price is $12.99. A pouch size unit measures five by nine inches and comes with a zipper and wristlet attachment. Its suggested retail price is $11.99. For more information on wholesale pricing and minimum orders, contact:
Its-laS-tik
c/o What'S ur Bag
2 The Summit
Holmdel, NJ 07733
Tel.: 732-671-8113
Website:
www.whatsurbag-usa.com
Entire contents ©2023, Sumner Communications, Inc. (203) 748-2050. All rights reserved. No part of this service may be reproduced in any form without the express written permission of Sumner Communications, Inc. except that an individual may download and/or forward articles via e-mail to a reasonable number of recipients for personal, non-commercial purposes.