INDEPENDENT RETAILER magazine is now the official news outlet for Wholesale Central visitors. Each monthly issue is packed with new product ideas, supplier profiles, retailing news, and business strategies to help you succeed.

See new articles daily online at IndependentRetailer.com.
GREAT WHOLESALEZ.COM has introduced two versions of a straw hat, adorned with seashells, that captures the spring/summer seasonal spirit. Attractive but not overdone, these give a lift without turning the wearers into fashion victims. One version has a four inch wide brim, and the other has a shorter, 2.5 inch brim, making it especially suitable for both men and women. Both are woven of straw, with a pattern woven into the crown. At the base of the crown the hats are surrounded with a combination of seashells and colored wooden beads.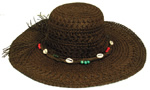 Both versions are offered in a choice of moss green, chocolate, ivory and natural. The wide brim version wholesales for $4.50 and has a suggested retail price of $19.99. The smaller brim version wholesales for $4.
The minimum order is $100, and can include any combination of products offered by this firm and its affiliates, which can include hats, gloves, parasols, corsets and other accessories. With a minimum order, retailers can get a free hat stand. It is five feet high and can accommodate at least a dozen hats.
For more information, contact:
Greatwholesalez.com
4635 North Black Canyon Highway, Ste. 201
Phoenix, AZ 85015
Toll Free: 877-755-4920
Tel.: 602-218-5977
Fax: 602-218-5975
Websites: www.greatlookz.com and www.greatwholesalez.com
Entire contents ©2022, Sumner Communications, Inc. (203) 748-2050. All rights reserved. No part of this service may be reproduced in any form without the express written permission of Sumner Communications, Inc. except that an individual may download and/or forward articles via e-mail to a reasonable number of recipients for personal, non-commercial purposes.