INDEPENDENT RETAILER magazine is now the official news outlet for Wholesale Central visitors. Each monthly issue is packed with new product ideas, supplier profiles, retailing news, and business strategies to help you succeed.

See new articles daily online at IndependentRetailer.com.
TATTOOS WITH A PURPOSE are offered in seven different kits, each designed to provide help to people in need under different circumstances. Each kit contains six temporary tattoos, six moist wipes for application, six alcohol wipes for removing them, and a marker, which is used to fill in identifying information on the tattoo.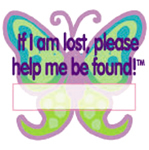 Three of the kits are to be used under situations in which a child might get lost. One is generic and the others are for a boy and a girl. In these cases, the parent or caregiver who applies the tattoo can fill in the number of someone to call if the child is lost.
Another kit is for children with autism. It identifies the wearer as autistic, and also has a space for writing the number of a person to contact if the child is lost. There is also a kit for people with Alzheimer's.
There's a, "No Nuts," that warns of someone who is allergic to nuts. There is also a field trip kit for children on a field trip. It can have the name of the school written on it, as well as the identity of who to call, along with a phone contact number.
Each tattoo in a kit lasts for three to five days. All are FDA approved, non toxic and made in the U.S. The minimum order is $150 and can include an assortment of different kits, according to the retailer's choice. The wholesale cost is $5, and declines on large volume orders. The suggested retail price is $9.99. A countertop displayer that holds 20 kits is available for $25.
For more information, contact:
Tattoos With A Purpose
P.O. Box 548
Royal Oak, MI 48068
Toll Free: 800-357-1521
Tel.: 248-545-1521
Website: www.tattooswithapurpose.com
Entire contents ©2022, Sumner Communications, Inc. (203) 748-2050. All rights reserved. No part of this service may be reproduced in any form without the express written permission of Sumner Communications, Inc. except that an individual may download and/or forward articles via e-mail to a reasonable number of recipients for personal, non-commercial purposes.