INDEPENDENT RETAILER magazine is now the official news outlet for Wholesale Central visitors. Each monthly issue is packed with new product ideas, supplier profiles, retailing news, and business strategies to help you succeed.

See new articles daily online at IndependentRetailer.com.
PURE AND SIMPLE INC., which produces the Pure & Simple brand of natural products, introduces 5 Minute Tea Facial, a kit that contains a liquid formula made of red bush tea, grown only in South Africa. For centuries, it has been used in facial applications.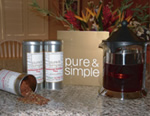 The ingredients are caffeine free and contain powerful antioxidants and anti inflammatory characteristics that are said to be the chief lines of defense against aging. The contents infuse the skin with protective minerals and vitamins that are soothing and restorative. At the same time, they are used to produce a liquid, which is not really a tea, but a different herb called Rooibos, which is the African name for the herb that means red bush. The 5 Minute Tea Facial contains the components to benefit from both the skin healing qualities and the soothing tea drink. Each kit contains four flavors of tea: Organic Vanilla Smoothie, Organic Razzle Pom Punch, Mellow Orange Mint, and Peach Mint Refresher. There is one pack of each flavor and there are also four compressed rayon pellets that, moistened by the tea, become face masks. Simply drop the mask in the brewed tea, and unroll the mask and place on your face, which has holes for the nose, eyes and mouth, and lie down for five minutes. It is not necessary to remove make up before donning the face mask. This is an ideal refresher after a day in the sun, and a quick pick me up for making the transition from day to evening. It provides a visible moisture boost. Meanwhile, the beverage brings comfort from drinking. It tastes equally good, hot or iced. The minimum first time order is $150, and it can include any Pure & Simple product, including 5 Minute Tea Facial. All have a minimum order of two units. The reorder minimum is $50. Wholesale price for 5 Minute Tea Facial is $5, and suggested retail is $10. A red brocade box, lined with gold damask, is available for in-store display. It comes with 30 kits at a wholesale price of $150, and holds and displays eight kits at a time. For more information, contact:
Pure and Simple Inc.
752 Vella Road
Palm Springs, CA 92264
Toll Free: 800-266-4647
Tel.: 760-864-9600
Fax: 760-864-9604
Website:
www.pureandsimpleinc.com
Entire contents ©2022, Sumner Communications, Inc. (203) 748-2050. All rights reserved. No part of this service may be reproduced in any form without the express written permission of Sumner Communications, Inc. except that an individual may download and/or forward articles via e-mail to a reasonable number of recipients for personal, non-commercial purposes.