INDEPENDENT RETAILER magazine is now the official news outlet for Wholesale Central visitors. Each monthly issue is packed with new product ideas, supplier profiles, retailing news, and business strategies to help you succeed.

See new articles daily online at IndependentRetailer.com.
PEEK-A-BOO STUFF LLC has developed Peek-A-Boo Bag, a soft pillow toy for infants that teaches as it entertains. The soft, 6.5 inch square comes in three versions: one for girls, another for boys, and a gender neutral ABC design.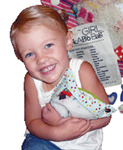 They have the feel of a bean bag, and are made of soft, subtle striped corduroy with a 3.5 inch clear vinyl window on one side. The pillows are stuffed with objects that move around when squeezed, and there is a list on the back that identifies the objects inside.
The girl's unit is pink and contains such objects as a dress, purse, castle and lipstick. The boy's blue unit contains cars, trucks, sports balls, a worm and a monster. The ABC unit is yellow and has all the letters of the alphabet.
Infants squeeze the pillow to bring an object into view and can learn to identify it by color and name, helping them to learn as they play. They can use their imagination to create stories around the objects that appear. The ABC unit, currently the most popular, helps kids learn to spell their names and other words with letters in very bright colors. Additional versions of Peek-A-Boo Bag are on the drawing board.
A minimum order is a sample kit containing 15 units, five of each version. In that quantity, the wholesale price is $7.20. Suggested retail price is $15. On an order of 30 units, two sample kits, comes a tabletop spinner display that stands one foot tall. It holds 15 units, but the manufacturer suggests showing 12 units, which leaves three -one of each version -for demonstration.
For more information, contact:
Peek-A-Boo Stuff LLC
12803 Ellerbeck Lane
Draper UT 84020
Tel.: 801-787-8942
Fax: 801-880-3550
Website: www.peekaboostuff.com
Entire contents ©2021, Sumner Communications, Inc. (203) 748-2050. All rights reserved. No part of this service may be reproduced in any form without the express written permission of Sumner Communications, Inc. except that an individual may download and/or forward articles via e-mail to a reasonable number of recipients for personal, non-commercial purposes.