INDEPENDENT RETAILER magazine is now the official news outlet for Wholesale Central visitors. Each monthly issue is packed with new product ideas, supplier profiles, retailing news, and business strategies to help you succeed.

See new articles daily online at IndependentRetailer.com.
THE BAGGLER COMPANY introduces a second product under the Baggler brand, "The Baggler Bag." It follows the company's introduction of the original Baggler, a device that holds multiple bags and can be carried easily with one hand.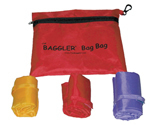 The Baggler Bag was designed specifically to make it easier for people to have a reusable alternative to plastic or paper bags provided by retailers in general, and grocery stores in particular. It was developed following studies showing that while the public embraces the green concept of reusable bags, best efforts are often stymied by forgetting to bring a reusable bag, and leaving one in the car, where it gets dirty and otherwise abused.
The Baggler Bag consists of four parts: three bags, each in a different color, and a pouch to hold them when they are not in use. The pouch, which when flat measures seven by six inches, has a clip that can be attached to a belt loop. The bags weigh just over one ounce each and will each carry about 14 lbs. They measure 18 inches tall, 12 inches wide and have a six inch spread. In addition to holding more than the usual grocery bag, they have ergonomically designed handles that lay comfortably flat on the hand.
The bags have a Velcro strip, so they can be rolled up when not in use, and all three fit in the pouch, which can also hold a shopping list and coupons. Bags and pouch are all made of strong, durable polyester, which is washable and quick drying. The colors are violet, yellow and bright red. The minimum order is a box of 24 units that comes with four clip strips, each of which holds four units. The wholesale price is $4.75, and suggested retail ranges from $9 to $10.
The Baggler Bag is also offered in a loose carton of 32 units. A floor displayer is available that holds 40 units. On large orders, the company can supply custom print units.
For more information, contact:
The Baggler Company
Five Glenwood Avenue
Augusta, ME 04330
Tel.: 207-441-4953
Fax: 207-622-9932
Website: www.thebaggler.com
Entire contents ©2022, Sumner Communications, Inc. (203) 748-2050. All rights reserved. No part of this service may be reproduced in any form without the express written permission of Sumner Communications, Inc. except that an individual may download and/or forward articles via e-mail to a reasonable number of recipients for personal, non-commercial purposes.