INDEPENDENT RETAILER magazine is now the official news outlet for Wholesale Central visitors. Each monthly issue is packed with new product ideas, supplier profiles, retailing news, and business strategies to help you succeed.

See new articles daily online at IndependentRetailer.com.
THE $5 STORE supplies a line of CZ cocktail rings that management reports is the best selling line it has carried in 15 years. There are 84 different designs of women's rings. All are of a brass based metal and plated with 10 milligrams of rhodium, and set with cubic zirconia. They come in assorted colors, and the primary benefit is a high end look at low wholesale prices. The price is $1.75 each, and suggested retail ranges from $10 to $12.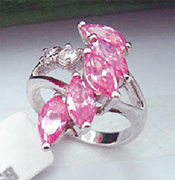 The rings are sold in a tray of 72 pieces, and the tray doubles as a display unit. The wholesale is $126, and there is a minimum of at least 60 different styles in the assortment, which includes all top sellers. Typically a tray holds a scale of sizes as follows: six pieces each of size 5 and 10, 12 of size 6 and 9, and 18 pieces each of size 7 and 8. Retailers may choose a different assortment of sizes.
The $5 Store's minimum order is $155, and can include an assortment of any of the company's 4,400 different jewelry items. Orders placed by noon are shipped the same day.
For more information, contact:
The $5 Store
7324 Commercial Circle
Fort Pierce, FL 34951
Toll Free: 800-404-8319
Tel.: 772-466-7492
Fax: 772-595-6171
Website: www.5dollarstoreusa.com
Entire contents ©2023, Sumner Communications, Inc. (203) 748-2050. All rights reserved. No part of this service may be reproduced in any form without the express written permission of Sumner Communications, Inc. except that an individual may download and/or forward articles via e-mail to a reasonable number of recipients for personal, non-commercial purposes.