INDEPENDENT RETAILER magazine is now the official news outlet for Wholesale Central visitors. Each monthly issue is packed with new product ideas, supplier profiles, retailing news, and business strategies to help you succeed.

See new articles daily online at IndependentRetailer.com.
LUSCIOUS LURE has extended its line of fishing lures adorned with mermaids. It has added a limited edition Executive gift unit and Luscious Lure Exotics, a new line that features mermaids in their traditional topless style.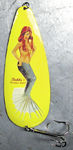 The Executive unit is a 6.5 inch saltwater spoon. This product is limited to 1,000 units each, offered in a Walnut wood box with a clear lid. Each unit carries a serial number. While it can be used for fishing, it is seen primarily as a desk or home decorative item. There is no minimum order required for this gift. The wholesale cost is in the $12 to $15 range, and suggested retail is in the range of $30.
The Luscious Lure Exotics line of painted fishing lures makes its debut in two designs: Bridgette, which has an Egyptian inspired look, and Ellen, which is a young and shy looking mermaid with a punk style hairdo. Both are 75 millimeter lures, and the designs were created by Aaron Cundall, the company owner, who also designed the original line of Luscious Lures.
The designs are described as tasteful interpretations of traditional mermaids, which have long been depicted in lore with a bare top above the fishtail bottom. Luscious Lure plans to add between two and three additional units each year to this Exotics line until it totals 10 different designs.
The minimum order is a dozen units, and can include an assortment of Luscious Lure designs, including the new Exotics. It comes with a free displayer that holds up to 36 lures. The wholesale price of Luscious Lure Exotics is about $3.50, depending on volume. The suggested retail price is $6.99.
For more information, contact:
Luscious Lure
646 Chestnut Street
Helena, MT 59601
Toll Free: 800-356-4499
Tel.: 406-449-6508
Fax: 406-442-8103
Website: www.lusciouslure.com
Entire contents ©2022, Sumner Communications, Inc. (203) 748-2050. All rights reserved. No part of this service may be reproduced in any form without the express written permission of Sumner Communications, Inc. except that an individual may download and/or forward articles via e-mail to a reasonable number of recipients for personal, non-commercial purposes.