INDEPENDENT RETAILER magazine is now the official news outlet for Wholesale Central visitors. Each monthly issue is packed with new product ideas, supplier profiles, retailing news, and business strategies to help you succeed.

See new articles daily online at IndependentRetailer.com.
Dakota Steel Art has developed a new concept in interior decorating and retail advertising. The Twirling Machine is a motor that will keep an object less than one and a half pounds. in perpetual motion 24 hours a day, 7 days a week for up to a year, on three AA batteries, and it is absolutely quiet.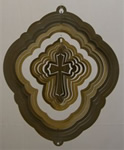 Dakota Steel Art reports that retail stores cannot only increase sales by using the Twirling Machine to hang constant motion signage, but retailers can sell the Twirling Machine as an add-on to mobiles, wind spinners, and other items that enhance the appearance of a house or office by hanging and twirling.
Dakota Steel Art expects a strong market for the Twirling Machine, with a wind spinner add-on as a gift item for the elderly, in apartments and nursing homes, since it is silent and provides constant motion.
For more information, contact:
Ray Zajac, owner
Dakota Steel Art
405 County Road 25
Mantador, ND 58058
Tel.: 701-242-7747
Fax: 701-242-0177
Website: www.dakotasteelart.com
Entire contents ©2021, Sumner Communications, Inc. (203) 748-2050. All rights reserved. No part of this service may be reproduced in any form without the express written permission of Sumner Communications, Inc. except that an individual may download and/or forward articles via e-mail to a reasonable number of recipients for personal, non-commercial purposes.