INDEPENDENT RETAILER magazine is now the official news outlet for Wholesale Central visitors. Each monthly issue is packed with new product ideas, supplier profiles, retailing news, and business strategies to help you succeed.

See new articles daily online at IndependentRetailer.com.
CASTLINE INC., a new model car company, has introduced the M2 Machines brand of 1/64th scale die cast model cars, with a slew of unique features and extensive detail rarely seen in cars of this size. The series begins with six models of Auto-Thentics, which are cars of the 1950s and 1960s.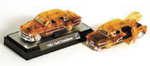 They are the 1954 Mercury Sun Valley, 1955 Pontiac Star Chief, 1953 Olds 98, 1955 Dodge Royal Lancer and 1957 DeSoto Adventurer. These classic car replicas, which measure just two inches or less, feature such amazing details as chrome fins and authentic factory paint jobs of up to two and three paint colors. The headlights and taillights are of clear plastic, so they look like glass. Bumpers and grills are chrome plated, and the interiors are color keyed to coordinate with the exteriors. The hoods open to reveal detailed engines inside. This series was followed by the M2 Machines' Clearly Auto-Thentics series. These are the same classic models with a transparent plastic body, which allows a full view of the painted engine and interior. It features opening doors and chrome trim, and units are available in clear and tinted plastic versions. A third series takes die cast car collections to a new level. Called Auto-Stretch Rods, this series features unique vehicles based on conventional classic cars that are lengthened to limo size. They feature front opening rear doors, so called suicide doors, and a large rear seat. It can be removed and replaced with a supercharged top fuel dragster engine, while the standard engine remains under the hood. Within this stretch series is a design based on a 1949 Mercury. The original appeared in the movie, Rebel Without a Cause. Future releases from Castline's M2 Machine brand will include muscle cars, hot rods, trucks and limited edition vehicles. The Company also plans to develop a 1.24 scale series, which will measure about seven or eight inches long. The 1/64 scale models wholesale for $2.50, and the suggested retail price ranges from $5 to $8. There is no minimum order. For more information, contact:
Castline Inc.
11837 Goldring Road
Arcadia, CA 91006
Tel.: 626-357-8219
Fax: 626-359-8745
Website:
www.m2machines.com
Entire contents ©2022, Sumner Communications, Inc. (203) 748-2050. All rights reserved. No part of this service may be reproduced in any form without the express written permission of Sumner Communications, Inc. except that an individual may download and/or forward articles via e-mail to a reasonable number of recipients for personal, non-commercial purposes.