INDEPENDENT RETAILER magazine is now the official news outlet for Wholesale Central visitors. Each monthly issue is packed with new product ideas, supplier profiles, retailing news, and business strategies to help you succeed.

See new articles daily online at IndependentRetailer.com.
I-GLOBALMALL.COM INC. introduces the ValueRays Warm Mouse, a computer mouse that uses deep healing infrared radiant heat to relieve stress and strain to the hands. It is an optical USB connected scrolling mouse, has an ergonomic design for optimum comfort, and a soft rubber coating that is pleasing to the touch. Its main benefits, are therapeutic, derived from its warmth, which improves circulation and joint flexibility.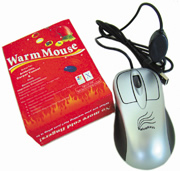 This therapeutic infrared heat is not only ideal for cold environments and air conditioned workplaces, but also for people with arthritis, carpal tunnel syndrome, chronic cold fingers, tendonitis and other types of hand joint pain. Warm Mouse does not require additional hardware or software. Simply plug it into the USB port. It is a two button mouse with illuminated scrolling and a wheel for browsing, and has a handy on/off switch. It is low voltage, completely safe, and has a carbon fiber heating element that warms to a perfect 104 degree temperature.
The heat penetrates into muscle tissue to relax tension. It is in use at a number of hospitals, and has proven to increase the amount of time that people with hand problems can use their computer. ValueRays Warm Mouse comes individually boxed, and the box spells out its features and benefits. The minimum order is 25 units, with a wholesale cost of $11.48. On orders of 50 units, the wholesale is $9.48. Suggested retail is $24.99.
I-Globalmall.com also offers a variety of additional warming computer related products, including a heated mouse pad, a heated arm rest for positioning in front of a computer keyboard, and a blanket pouch with a coil inside. It can be used to heat any mouse or mouse pad.
For more information, contact:
I-Globalmall.com Inc.
Desert Cities, CA 92241
Tel.: 310-351-6495
Toll Free Fax: 800-853-6704
Website: www.igmproducts.com
Entire contents ©2022, Sumner Communications, Inc. (203) 748-2050. All rights reserved. No part of this service may be reproduced in any form without the express written permission of Sumner Communications, Inc. except that an individual may download and/or forward articles via e-mail to a reasonable number of recipients for personal, non-commercial purposes.