INDEPENDENT RETAILER magazine is now the official news outlet for Wholesale Central visitors. Each monthly issue is packed with new product ideas, supplier profiles, retailing news, and business strategies to help you succeed.

See new articles daily online at IndependentRetailer.com.
MIKE'S WORLDWIDE IMPORTS (MWI) has introduced a full line of vaporizers for use with tobacco and legal herbal use only. There are eight different styles in the line.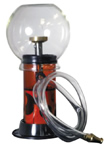 A vaporizer is a device used to release the active ingredients of tobacco. Rather than burning tobacco, the vaporizer heats it to a temperature that melts the active ingredients, which then phase into an aromatic vapor, instead of smoke.
The MWI line includes units in a variety of materials, including aluminum, acrylic, digital metal and digital wood.
The vaporizers cover a wide range of wholesale prices, from $20 to $200 a unit. In addition to the material, the differences among them are based on the type of heating element contained in the unit, and its ability to control temperature. The least expensive models use a metal heating element. The more expensive ones utilize a digital temperature control feature that allows the user to control temperature more easily and effectively.
The company requires a $100 minimum order, which can include an assortment of its approximately 2,000 different products. Among them are grinders, novelty pipes, wood pipes, lighters, cigarette cases, pipe bags, hookahs, body jewelry and more. The suggested retail price for the vaporizers is two to three times wholesale cost.
For more information, contact:
Mike's Worldwide Imports (MWI)
10175 Harwin Drive, Ste. 106
Houston, TX 77036
Toll Free: 888-694-6453
Toll Free Fax: 800-619-5112
Website: www.mikesworldwideimports.com
Entire contents ©2023, Sumner Communications, Inc. (203) 748-2050. All rights reserved. No part of this service may be reproduced in any form without the express written permission of Sumner Communications, Inc. except that an individual may download and/or forward articles via e-mail to a reasonable number of recipients for personal, non-commercial purposes.