INDEPENDENT RETAILER magazine is now the official news outlet for Wholesale Central visitors. Each monthly issue is packed with new product ideas, supplier profiles, retailing news, and business strategies to help you succeed.

See new articles daily online at IndependentRetailer.com.
BEARHANDS & BUDDIES extends its Buddy line with an assortment of fleece hats and scarves. The scarves feature a plush animal with the head at one end and tail at the other. When the scarf is tied, the buddy comes together. The hats feature a buddy head on one side, and the tail on the other.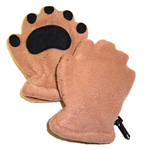 There are 15 different Buddy designs. All are in color and fitted onto colors that resemble the plush animals. There are two cats; three dogs, including a white poodle on purple; polar bear, penguin, giraffe and two frogs among others. The company will make custom designs on large volume orders.
The hat and scarf Buddies are sold separately, some retailers combine them into sets containing a coordinated hat and scarf. The company requires a $200 minimum order, which can include an assortment of any of its products, including its BearHands Mittens.
The Buddy scarves and hats wholesale for $7.50, and suggested retail price is between $15 and $16. In store display units are currently being developed. For more information, contact:
BearHands & Buddies
38 Main Street
Little Ferry, NJ 07643
Toll Free: 877-805-9898
Tel.: 201-807-9898
Fax: 201-807-9808
Website: www.bearhands.net
Entire contents ©2022, Sumner Communications, Inc. (203) 748-2050. All rights reserved. No part of this service may be reproduced in any form without the express written permission of Sumner Communications, Inc. except that an individual may download and/or forward articles via e-mail to a reasonable number of recipients for personal, non-commercial purposes.