HIP FROM HOLLAND introduces two different versions of Totem, which are a combination of jigsaw puzzles and building parts, from its Kids on Roof brand of games and toys designed in Amsterdam. There is Totem City and Totem Nature.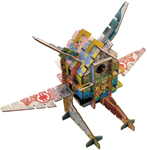 Both versions contain 130 pieces of recycled cardboard in a variety of shapes, with prints on both sides. Each version provides instructions for building four different structures, and each also offers an opportunity for a child to create and design their own structure. Totem City's four dimensional structures include an airplane, sail boat, space ship and school house. The four structures detailed in Totem Nature are a witch house, lizard, reindeer and the school house. They are designed for kids between the ages of seven and 12. They come individually boxed, and the box shows illustrations of the four structures and tells how Totem works.
The minimum order is a case of 12 units, which can be a mix of six Nature and six City, or all units of the same version. The wholesale cost is $16. The suggested retail price is $32 to $35. On a retailer's first order, another set is provided free, so the merchant can display a Totem structure or demonstrate how Totems work.
For more information:
Hip From Holland
28 Huron Avenue
Cambridge, MA 02138
Tel.: 857-928-6298
Fax: 617-945-5943
Website: www.hipfromholland.com
Entire contents ©2022, Sumner Communications, Inc. (203) 748-2050. All rights reserved. No part of this service may be reproduced in any form without the express written permission of Sumner Communications, Inc. except that an individual may download and/or forward articles via e-mail to a reasonable number of recipients for personal, non-commercial purposes.