PINK WHOLESALE offers about 50 different products, all carrying a depiction of the pink ribbon that has come to signify the search for a cure for breast cancer. Pink Wholesale donates a percentage of each sale to breast cancer research. The percentage ranges between five and 7.5 percent, depending on the product. The current best selling item in the assortment is a T-shirt that shows the ribbon, along with the line: "I fight like a girl." It wholesales for $9, and suggested retail ranges from $19.99 to $21.99.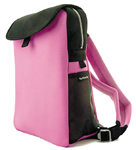 Among the least expensive items are white pencils carrying the ribbon. They wholesale in a minimum of 24 units for a total of $6.50, and can command up to $1 each at retail. There are pink ribbon ducks that wholesale in a minimum of one dozen for $12, and easily double that or better at retail.
A variety of key chains wholesale for $2.25 to $3. The suggested retail is 50 to 52 percent above wholesale. At the more expensive end of the spectrum is a pink laptop bag that wholesales for $18, and a backpack that wholesales for $15. Also within the mix are mouse pads, aprons, coffee mugs, lunch bags, totes and gym bags. The minimum order is $100, and can include a mix of products. Pink Wholesale has been in business since 1998, and can recommend items that sell best in different kinds of stores.
For more information:
Pink Wholesale
1320 State Rte. 9
Champlain, NY 12919
Toll Free: 877-426-0146
Fax: 514-426-5550
Website: www.wholesalecentral.com/pinkwholesale
Entire contents ©2022, Sumner Communications, Inc. (203) 748-2050. All rights reserved. No part of this service may be reproduced in any form without the express written permission of Sumner Communications, Inc. except that an individual may download and/or forward articles via e-mail to a reasonable number of recipients for personal, non-commercial purposes.