The inventors of Revive Energy Mints were on a mission to revolutionize energy supplements. The result is a product called Revive Energy Mints, dubbed, "nature's energy mint." Revive Energy Mints pack the energy of an energy drink, plus the antioxidant heath benefits of an entire serving of fruit, into one compact mint.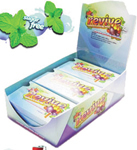 Revive Energy Mints offer an alternative to energy drinks and energy shots, by delivering a more compact, no liquid, better tasting, and healthier form of energy. The sugar free mints are made with natural ingredients, and have the added boost of super foods. Consumers appreciate the sustained energy without the jitters and crash of the average energy drink. All of these benefits are provided, along with fresh breath and a price point that is about a sixth of the cost of the leading energy drink. The mints retail for $3.99 for an eight-pack.
With consumers feeling the pinch of the economy right now, they are increasingly turning to cheaper sources for their daily energy and health needs, and Revive Energy Mints are the perfect fix. Retailers enjoy high dollar margins, strong ROI, repeat clientele, and a product that sells itself. Wholesale orders can be placed directly with the authorized distributor, Caduceus Institute. Revive Mints are sold by the case. Each case contains ten boxes, with twelve eight mint packs per box. One case (120 units) wholesales for $275, three cases are $250 per case, five cases are $240 per case, ten cases are $230, and 20 cases are $220 per case.
For more information:
Caduceus Institute
Tel.: 877-411-MINT (6467)
Website: www.revivemint.us
Entire contents ©2022, Sumner Communications, Inc. (203) 748-2050. All rights reserved. No part of this service may be reproduced in any form without the express written permission of Sumner Communications, Inc. except that an individual may download and/or forward articles via e-mail to a reasonable number of recipients for personal, non-commercial purposes.