ZELCO INDUSTRIES INC. introduces the Swinger illuminated pocket mirror. It measures just over six and a half inches long and one and a half inches wide and fits easily in a pocket or purse.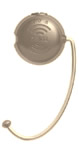 A distortion free, full face mirror swings out smoothly and hydraulically from the handsome, protective, brushed aluminum case. The unit also contains a bright, LED bulb that illuminates the entire face and can also function as an emergency flashlight.

Swinger comes with a soft pouch made of microfiber, which also functions as a mirror cleaner, along with two CR2016 replaceable batteries. Units are packaged 24 to a carton. The suggested retail price is $29.95 a unit.
The same company offers two additional innovative products: a small, "Edge Light," and, "PurseGuard Ultra." Edge Light contains three Nichia white LED bulbs in a unit just five inches long, to fit in the palm of the hand. It is powered by two AA batteries (not included) for a run time of up to 20 hours. The suggested retail price is $34.99 a unit.
PurseGuard Ultra is a purse hanger with a double alarm. It is designed to fit on a tabletop, back of a chair or a shelf in women's rooms, to safeguard a purse from theft. It also lifts the purse from dirty floors.
The unit contains audio and LED light alarms. It folds flat in a purse, and comes with two coin type replaceable lithium batteries and a pouch. It is offered in white or black, and the suggested retail price is $21.99 a unit.
All three products come packaged for pegboard display, and will be available for purchase in May.
Zelco Industries Inc.
65 Haven Avenue
Mount Vernon, NY 10553
Toll free: 800-431-2486
Tel.: 914-699-6230
Fax: 914-699-7082
Email: office@zelco.com
Website: www.zelco.com
Entire contents ©2021, Sumner Communications, Inc. (203) 748-2050. All rights reserved. No part of this service may be reproduced in any form without the express written permission of Sumner Communications, Inc. except that an individual may download and/or forward articles via e-mail to a reasonable number of recipients for personal, non-commercial purposes.