HOLLANDER OLSEN offers two different lines of high quality screen printed T-shirts that carry positive, life affirming messages. The Sign Designs line features iconic messages in American Sign Language, and B-Line Designs encourage people to, "be themselves."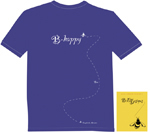 Currently, two Sign Designs motifs are available. They are Love and Happy, both beautifully illustrated. In each case, the shirts show hands gesturing the ASL image from the ASL dictionary. The corresponding words are also printed on the shirts. Additional designs are in the works, and like the initial two, they will use a singular phrase in one iconic image. The images are screen printed on cotton burnout T-shirts, and available in either black or white for men and women. They are available in sizes small through extra large. The minimum order is one dozen of assorted units, but the company is eager to discuss fewer units in an opening order. The wholesale cost is $17, and the suggested retail is $40. The B-Line Designs T-shirts are in heathered cotton in a choice of orchid or indigo for women in sizes small, medium and large. There are 10 different positive, life affirming designs. Among them are, "Be Happy... consider the alternative," and, "Be Yourself... who else would you want to be?" A bee graphic ties the first two words of the design with the corresponding following lines. The wholesale price for B-Line Designs is $14, and the suggested retail price is $28. There is also a youth B-Line Design series on heathered T-shirts, in Sienna or evergreen colors. They are eco-friendly, made of a combination of cotton and recycled polyester. These come in sizes XXS to large. The wholesale price is $16, and suggested retail is $30. For more information, contact:
Hollander Olsen
17328 Ventura Boulevard
Encino, CA 91316
Toll Free: 866-955-6625
Tel.: 818-907-7397
Website:
www.hollanderolsen.com
Entire contents ©2022, Sumner Communications, Inc. (203) 748-2050. All rights reserved. No part of this service may be reproduced in any form without the express written permission of Sumner Communications, Inc. except that an individual may download and/or forward articles via e-mail to a reasonable number of recipients for personal, non-commercial purposes.