NOVELTY GIFT COMPANY is a source for Bakugan, the hit TV show that features battle brawler spheres that morph into monsters when rolled, and its accompanying trading card game. Novelty Gift also supplies other products that are riding a wave of popularity.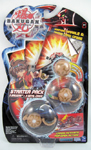 It carries three versions of Bakugan, each in a range of colors. The Booster pack contains a single Bakugan sphere or marble. This unit wholesales for $5 and has a suggested retail price of $9.95.
The Starter pack contains three Bakugan marbles and one each of a normal card, character card and command card. It wholesales for $10 and has a suggested retail of $19.95. The Battle pack has six Bakugan marble monsters, three normal cards, two character cards, two command cards and one special ability card. It wholesales for $17.50 and has a suggested retail of $29.95. All of the Bakugan packs come with full playing directions.
For an entirely different market, Novelty Gift Company carries Pedi Paws, the pet nail trimmer that has been featured on televised infomercials. It wholesales for $13, and suggested retail ranges from $19.95 to $24.95.
In addition, this supplier has the latest licensed products associated with Hannah Montana and High School Musical III.
For more information, contact:
Novelty Gift Company
81 North Forrest Avenue
Rockville Center, NY 11570
Toll Free: 800-648-4818
Tel.: 516-561-1378
Fax: 516-561-3605
Website: www.noveltyposter.com
Entire contents ©2022, Sumner Communications, Inc. (203) 748-2050. All rights reserved. No part of this service may be reproduced in any form without the express written permission of Sumner Communications, Inc. except that an individual may download and/or forward articles via e-mail to a reasonable number of recipients for personal, non-commercial purposes.