EZ SPLITZ supplies two sizes of its EZ Splitz cigar cutters, which are cigar splitters that also have a key chain. The cigarillo size is offered in red, blue, black, clear or pink, while the blunt size comes only in black.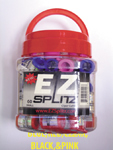 The cutters are of plastic. They cut a cigarillo or blunt cigar down the middle, allowing the user to create their own wraps and replace the tobacco with their own contents.
The minimum is a bucket containing 60 units, all of one size. The cigarillo bucket can be ordered with all black units or in an assortment of five colors. The cigarillo version wholesales for 85 cents, and the blunt unit wholesales for $1. The suggested retail price for both versions is $1.99.
For more information, contact:
EZ Splitz
6116 Walker Avenue Bldg. A
Maywood, CA 90270
Toll Free: 866-897-6733
Tel.: 323-562-6100
Fax: 323-562-6106
Website: www.ezsplitz.com
Entire contents ©2022, Sumner Communications, Inc. (203) 748-2050. All rights reserved. No part of this service may be reproduced in any form without the express written permission of Sumner Communications, Inc. except that an individual may download and/or forward articles via e-mail to a reasonable number of recipients for personal, non-commercial purposes.