DIAMOND DIVA DESIGNZ has developed pouches that when placed in shoes after they've been worn, rid them of moisture, toxins and odors. There are distinct designs for men's and ladies' shoes and a special set for sports equipment, including sports shoes.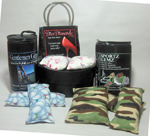 The pouches contain a volcanic mineral with an ionic property. The mineral is hollow, and it absorbs the moisture, toxins and odors and holds onto them. The pouches will hold about 100 times their weight. When they become saturated, they start to smell. At that point, simply place the pouches in sunshine, which dries them out and restores their properties.
The men's version, called, "Gentlemen Gems," are about seven inches long and two inches wide and are offered in three choices of cotton print fabric. There is a golf print and a blue and a green camouflage pattern.
The women's version, "Diva Diamondz," are in a diamond shape, which better accommodates women's shoes, and is offered in a choice of different feminine cotton prints. Diva Diamondz are packaged in a little black purse, and Gentlemen Gems come in a black circular case with a handle.
The wholesale cost of Gentlemen Gems and Diva Diamondz is $9 a pair. The minimum order of each version is a case of 12 units, for a total of $108, and the case can include an assortment of cotton print styles. In this quantity, shipping is free, and shelf talkers explaining the benefits also come free with each order. Suggested retail is $18 a pair.
SportzGems is a set that includes two pouches like Gentlemen's Gems for use in sports shoes, plus a larger pouch to be placed in a sports bag. SportzGems are offered in a choice of blue, green or pink camouflage. The minimum order is a case of 18 units for a total wholesale of $225, which translates to $12.50 a unit. Suggested retail price is $25.
For more information, contact:
Diamond Diva Designz
9512 209A Street
Walnut Grove, Langley, BC, Canada V1M 1A8
Tel.: 604-671-1031
Fax: 604-888-2186
Website: www.diamonddivadesignz.com
Entire contents ©2022, Sumner Communications, Inc. (203) 748-2050. All rights reserved. No part of this service may be reproduced in any form without the express written permission of Sumner Communications, Inc. except that an individual may download and/or forward articles via e-mail to a reasonable number of recipients for personal, non-commercial purposes.