INDEPENDENT RETAILER magazine is now the official news outlet for Wholesale Central visitors. Each monthly issue is packed with new product ideas, supplier profiles, retailing news, and business strategies to help you succeed.

See new articles daily online at IndependentRetailer.com.
VINO FRESCO, a subsidiary of American Fleece Associates Inc., introduces Wine Saver, a simple device for capping an opened wine bottle and keeping the contents fresh for up to two weeks. Wine Saver is a three inch tall unit of plastic that has a central accordion like pump.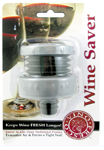 Simply insert Wine Saver into the top of the bottle, pump out the air, and leave it in place to seal the bottle until you're ready to use it again. Wine Saver evacuates the air from inside the bottle and eliminates the oxidation, which is the cause of deteriorating freshness. With air and oxygen gone, the Wine Saver's tight seal protects the contents, keeping the wine's natural flavor intact. Wine Saver makes an ideal house gift and dinner gift and is a handy addition to any kitchen. Wine Saver is card packaged for peg board display. The pack shows Wine Saver and immediately depicts its purpose. The minimum order is 36 units. In that quantity, the wholesale price is $3.20. A countertop displayer containing three rows of 12 units each is available free on request. The suggested retail price is $6.99. For more information, contact:
Vino Fresco div.
American Fleece Associates Inc.
One 43rd Street
Brooklyn, NY 11232
Tel.: 718-369-2753
Fax: 718-228-3938
Entire contents ©2023, Sumner Communications, Inc. (203) 748-2050. All rights reserved. No part of this service may be reproduced in any form without the express written permission of Sumner Communications, Inc. except that an individual may download and/or forward articles via e-mail to a reasonable number of recipients for personal, non-commercial purposes.