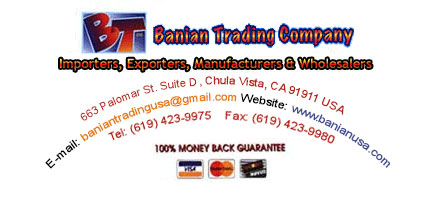 BANIAN TRADING CO. (USA)
663 Palomar St Suite D
Chula Vista, California 91911 United States
Phone: (619) 423-9975, Fax: (619) 423-9980
E-Mail: baniantradingusa@gmail.com

---
Minimum Order: $100.00
About Our Company
Banian Trading Co. Was Established Under The Laws of California In 1987. We Are Manufacturers, Importers, Exporters & Wholesalers. We Are The Manufacturers of "JUST DARLING COLLECTION" Childrens Apparel Line. We Are Located In Southern California; In The San Diego Area. This Is Our 21st Year! For Over 24 Years We Have Been Providing Quality Goods To Many Satisfied Business Owners In All 50 States And In Overseas Markets. We Sell Strictly Wholesale. At Banian Trading You Are Treated Like Part Of The Family.
About Our Products
We Carry A Whole Range of Apparel For The Family. We Also Sell Accessories, School Uniforms, Bridals, Dolls, Baseball Caps & Hats, T Shirts, Jewelry, Etc. We Sell Only First Quality Merchandise. We Carry Over 5,000 Items, And We Are Always Receiving New Goods All The Time. Our Website Is Updated Twice Weekly. Please Bookmark Our Website So That You Can See Our Latest Offerings.
Return Policy
All Our Merchandise Is Sold With A 100% Money Back Guarantee. In The Event You Do Not Like Something That You Receive From Us, Please Notify Us Within 10 Days Of Receipt Of Goods. We Will Issue A Return Authorization Number For Return Of The Goods. We Will Not Accept Garments That Been Worn Or Washed. We Will Gladly Replace, Refund or Credit Your Account-No Questions Asked. However, We Do Dot Refund Freight Charges.
Minimum Order
$100.00 Per Order For USA And $300.00 For Overseas Orders, Subject To The Minimum Per Style As Stated In Our Online Catalog.
Terms
We Accept Visa, Master Card, Discover & PayPal As Well As Debit & Check Cards. We Do Not Ship COD. All Overseas Orders Must Be Fully Pre-Paid.