DIRECTORY

CART ()
Check Out
Home
A-CLOSEOUTS-LIQUIDATIONS
AA - Newest Goods From Banian
Accessories
Americana
Backpacks, Bags, Handbags, Etc
Boys Neck-Ties
Boys Suits, Slacks Sets, Etc.
Boys Tuxedos & Tuxedo Shoes
Bridal/Communion Accessories
Bridesmaid/Christening Headwer
Caps, Hats & Headwear
Childrens' Wear
Christening Wear & Accessories
Christian Products
Communion Dresses, Etc.
Cosmetics & Accessories
Cushions & Pillows
Dancewear & Accessories- Girls
Dolls
Dream Catchers
Embroidered Patches
Fall - Winter Goods
Flower Girl Dresses & Gowns
Footwear - Shoes
Formalwear
Gift Bags, Wrapping Mat., Etc.
Gift Boxed Sets For Babies
Giftware
Girls Dresses & Gowns
Hair Accessories
Handbags & Purses
Health & Beauty
Hispanic - Mexican Products
Hosiery, Socks & Underwear
Intimatewear
Invitation Cards
Jewelry
Loteria Merchandise
Marijuana-Weed Goods
Military Goods
Native Pride Products
Pageantwear & Accessories
Polar Fleece Sets For Kids
Quincenera Goods
Rebel - Confederate Goods, Etc
Reggae Rasta Goods
Route 66 Goods
T Shirts, Sweatshirts- Hoodies
About Us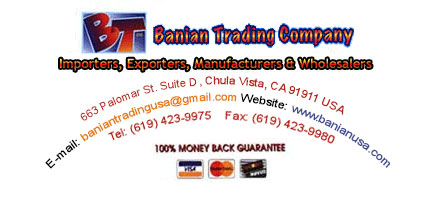 BANIAN TRADING CO. (USA)
663 Palomar St Suite D
Chula Vista, California 91911 United States
Phone: (619) 423-9975, Fax: (619) 423-9980
E-Mail: baniantradingusa@gmail.com

---
Minimum Order: $100.00
2 items found: Page [ 1 ]
(*) in price column means Quantity Discounts Available!
Click on item name to see full details and picture if available.

2 items found: Page [ 1 ]