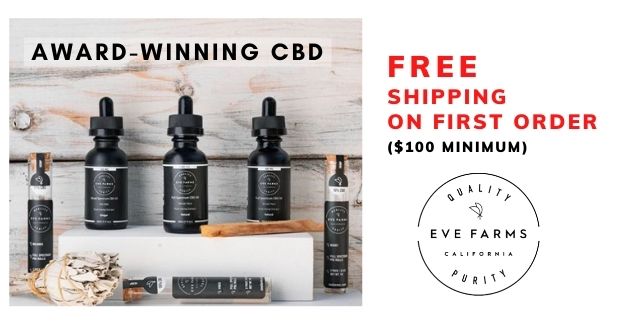 CCFCO Management featuring Eve Farms
1300 Evans Ave #885106
San Francisco, California 94188 United States
Phone: 628-777-5893‬
E-Mail: info@evefarms.com

---
Minimum Order: $100.00
Eve Farms - your trusted source for premium CBD oils pre-rolls, whole flower hemp joints & capsules.
Contact us for best pricing, availability and help with high quality CBD product needs!

(*) in price column means Quantity Discounts Available!
Click on item name to see full details and picture if available.

Item #
Description
Price
Unit
1-EF.PRBA.12.19
Balance CBD Pre-Roll
Balance is designed to help you feel calm, but alert and you guessed it, balanced.

* 6.00
2 pack
2-EF.PRBO.12.19
Boost CBD Pre-Roll
Boost is crafted to lift your mood up, so get those creative juices going or get physical.

* 6.00
2 pack
3-EF.PRVS.12.19
Vibes CBD Pre-Roll
Our Vibes pre-roll is handcrafted to support a focused mind, calm bodied, relaxing experience.

* 6.00
2 pack
4-EF.FSCAP.9.20
Full Spectrum CBD Capsules
These full spectrum hemp CBD capsules are perfect for accurate dosing. They are designed to calm the mind, body, and soothe physical aches.

* 12.00
10 pack
5-EFHM.BSO.12.19.G5
Broad Spectrum CBD Oil 500mg
Our broad spectrum oil is designed to ease inflammation and improve sleep. It's formulated with organic ginger to provide extra anti-inflammatory relief. It comes in our lightest strength and is THC-free, perfect for those new to CBD.

* 30.00
each
6-EFHM.FSO.12.19.N5
Full Spectrum CBD Oil 500mg
Our full spectrum oil contains all the naturally occurring compounds found in the hemp plant, magnifying the benefits to your overall health. Designed to help manage stress and anxiety and provide relief from inflammation.

* 30.00
each
7-EFHM.FSO.12.19.N1
Full Spectrum CBD Oil 1,000mg
This high potency full spectrum oil is designed to calm the mind, body and skin and soothe physical aches.

* 50.00
each