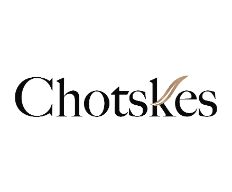 Chotskes Rolling Papers / Avinue, LLC.
5306 Roosevelt Rd.
East Ridge, Tennessee 37412 United States
Toll-Free: 855.510.6100

E-Mail: customersupport@chotskes.com

---
Minimum Order: $62.50
☆☆☆FREE SHIPPING☆☆☆
☆☆☆FREE SAMPLE☆☆☆

☆☆☆HUGE PROFIT MARGIN☆☆☆

(*) in price column means Quantity Discounts Available!
Click on item name to see full details and picture if available.

Item #
Description
Price
Unit
860004189220
Chotskes All Natural Rolling Papers
☆Paper Size: 1.25 | 1 1/4 | 75mm x 44mm. Sealed Display Box Size: 5L x 3.3W x 1.2H inches. ☆Papers Made in Europe & Packaged in Indonesia. ☆WSP:$12.50-$9.00 per Box of 25 Booklets. ☆SRP:$29.99 per Box. $1.25 Each Booklet.

* 12.50
1 Sealed Display Box of 25 individual Booklets.
---
Return to our main website at https://www.wholesalecentral.com/chotskes