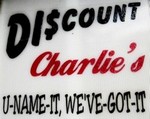 Discount Charlies
70 County Rd. 772
MONTEVALLO, Alabama 35115 United States
Toll-Free: 1-800-240-0352
Phone: 205-476-3633
E-Mail: SALES@DISCOUNTCHARLIES.COM

---
Minimum Order: $50.00
About Our Company
Thank you for visiting Discount Charlie's,Inc. We appreciate your patronage and business. Thank you!
About Our Products
WE STOCK OVER 3000 DIFFERENT ITEMS IN OUR WAREHOUSE. WE PURCHASE AND OWN "ALL" OF OUR MERCHANDISE. NO DROP SHIP MIDDLE MAN FEES,JUST GREAT PRICES & SHIPPING! WE IMPORT OUR MERCHANDISE SO WE DO NOT HAVE TO PAY A 3RD PARTY TO SOURCE OUR ITEMS FOR US,FURTHER ADDING TO THE COSTS. I REALLY DO HOPE YOU WILL GIVE US A CHANCE TO PROVE OUR SELVES. I WISH YOU MUCH SUCCESS, CHARLIE
Return Policy
DUE TO THE COST OF PACKAGING AND LABOR, WE MUST CHARGE A 25% RESTOCKING FEE. SO PLEASE BE SURE OF YOUR SELECTION. ALL SALES ARE FINAL!! ALL DEFECTIVE ITEMS MUST BE RETURNED,SHIPPING PAID WITHIN 10-DAYS OF RECEIPT. IF THE ITEM IS DAMAGED IN TRANSIT, YOU WILL NEED TO CONTACT THE CARRIER RIGHT AWAY AND MAKE THEM AWARE OF THE SITUATION. BE SURE TO KEEP ALLPACKING AND MERCHANDISE THAT IS IN THE ORDER. YOU CAN CONTACT UPS @ WWW.UPS.COM, AND THE UNITED STATES POSTAL SERVICE @ WWW.USPS.COM. YOU WILL NEED THE TRACKING NUMBER FOR BOTH. THANK YOU!
Minimum Order
$50.00
Terms
OUR SHIPPING RATES ARE ESTIMATES. SOME ITEMS THAT ARE OVER SIZE,HEAVIER OR SHIPPED LONG DISTANCES MIGHT REQUIRE ADDITIONAL SHIPPING FEES. IN THAT CASE, WE WILL NOTIFY YOU WITH THE RATE AND YOU CAN DECIDE BEFORE WE SHIP THE ORDER. ASK US ABOUT DISCOUNTS ON LARGE ORDERS. NO ONE CAN TOUCH OUR PRICES AND VARIETY!
---
Return to our main website at http://www.discountcharlies.com