INDEPENDENT RETAILER magazine is now the official news outlet for Wholesale Central visitors. Each monthly issue is packed with new product ideas, supplier profiles, retailing news, and business strategies to help you succeed.

See new articles daily online at IndependentRetailer.com.
NISSAN S. ENGINEERING has developed UDS, Umbrella Draining Solution, which is designed to solve the problem of bringing wet, messy umbrellas into a home, office or car. UDS combines a heavy duty, three fold umbrella with a unique container that holds and drains the umbrella.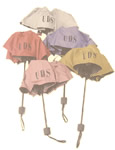 The container is a sleek metallic cup, or canister, with an integrated drainer on its base that automatically collects and contains all dripping water away from the umbrella. The container is designed to fit into any car's cup holder to ensure that it is handy.

It comes in a choice of five metallic finish colors: silver, red, pink, gold and purple. The umbrellas come in colors to match and are made of T-90 nylon, a blend of three materials used in durable water shedding rain jackets. They have an inside second layer that provides UV protection.
In addition, the umbrella is of sturdy, storm proof construction that won't flip inside out or break in harsh winds and weather. UDS units are individually packaged in an attractive black box that shows the benefits and style of the cup and umbrella, designed for maximum shelf appeal and gift giving.
The minimum order is a box of 20 total units, including two of each color. The wholesale price on orders of five 20 unit boxes is $8.99 a unit. On orders of more than five 20 unit boxes, the wholesale declines to $7.50 a unit. The suggested retail price ranges from $14.99 to $19.99 a unit.
Nissan S. Engineering
20815 Northeast 16th Avenue
Unit B 46
Miami, FL 33179
Toll free: 866-678-6444
Tel.: 305-655-0552
Toll free fax: 800-856-8993
Email: fmcvpd@aol.com
Website: www.udstm.com
Entire contents ©2021, Sumner Communications, Inc. (203) 748-2050. All rights reserved. No part of this service may be reproduced in any form without the express written permission of Sumner Communications, Inc. except that an individual may download and/or forward articles via e-mail to a reasonable number of recipients for personal, non-commercial purposes.