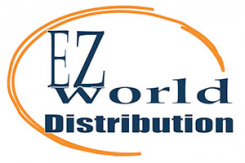 EZ World Distribution
840, Place Boland
Trois-Rivieres, Quebec G8Z4H2 Canada
Phone: 819-383-1987
E-Mail: christian@ezway.ca

---
Minimum Order: $35.00
Actual shipping charges will be added once we receive your order.
We will contact you within 48hrs with your total and to arrange payment.

Call for Special Pricing on larger quantity orders!

(*) in price column means Quantity Discounts Available!
Click on item name to see full details and picture if available.

Item #
Description
Price
Unit
004
Crystalline H2O - Chlorine Saver - 300g
CrystallineH2O keeps pools and spa water cleaner while reducing the amount of chlorine or bactericide needed, reducing the dryness and irritation of users skin.

19.97
ea
005
Crystalline H2O - Chlorine Saver - 700g
CrystallineH2O keeps pools and spa water cleaner while reducing the amount of chlorine or bactericide needed, reducing the dryness and irritation of users skin.

25.97
ea
002
One Cup Eco-Logic Coffee Maker
Elegant and practical coffee maker allowing users to makes one infusion at a time. Fast, economical and environmentally friendly. Features a patented designed stainless steel filter and its infusion chamber with integrated air intake.

2.18
ea
001
Reusable Oval Coffee Filter (1 to 5 cups)
Flexible oval reusable filter for 1 to 5 cup coffee makers. Eco-friendly: no paper filter needed.

2.62
ea
003
Reusable Oval Coffee Filter (6 to 12 cups)
Flexible oval reusable filter for 6 to 12 cup coffee makers. Eco-friendly: no paper filter needed.

3.00
ea