INDEPENDENT RETAILER magazine is now the official news outlet for Wholesale Central visitors. Each monthly issue is packed with new product ideas, supplier profiles, retailing news, and business strategies to help you succeed.

See new articles daily online at IndependentRetailer.com.
CENTER COURT introduces a heart shaped locket, into which customers can insert a personalized mix of charms and mementos. Called, "Forever in My Heart Locket," it is about three quarters of an inch wide and has a glass front.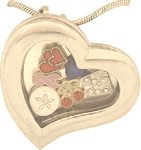 It is offered as part of a program that also includes approximately 200 different charm designs, and as many as eight charms can be contained in the heart locket. The Forever in My Heart Locket is offered in a key chain, two different types of purse key clips, and a necklace and bracelet.

The charms include Swarovski crystal birthstones and almost any imaginable theme, including animals, initials, hobby and sports motifs, paw prints, flower designs, flags, the breast cancer ribbon and other timely topics. These allow customers to pick a personal mix of charms for inside a locket for themselves or a loved one. It also gives retailers add-on sales.
The program is offered in an initial minimum order of $499, which includes a locking acrylic displayer that is about 14 inches wide and 14 inches deep. It comes with four white jewelry boxes for holding a Forever in My Heart Locket pendant, an assortment of 74 charms in quantities of three each, of individual designs, 12 lockets with a chain, and six bracelets.
Retailers can expect to at least double the wholesale cost. Lockets typically retail for about $15 a unit, and charms generally retail for $3 to $4 a unit. Customers reportedly buy from four to five charms with a locket.
A larger, deluxe display package contains all of the above, plus three pieces each of an additional 36 charm designs, 12 heart key chains and six heart purse clips or a similar combination of additional units. It wholesales for $750. Under either program, retailers can reorder charms in quantities of just three units.
For more information, contact:
Center Court
6910 North Main Street Unit 7
Granger, IN 46530
Tel.: 260-433-2446
Fax: 574-273-9885
Website: www.centercourtdirect.com
Entire contents ©2021, Sumner Communications, Inc. (203) 748-2050. All rights reserved. No part of this service may be reproduced in any form without the express written permission of Sumner Communications, Inc. except that an individual may download and/or forward articles via e-mail to a reasonable number of recipients for personal, non-commercial purposes.