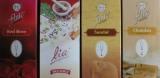 Incense Plaza
9777 Harwin Drive Suite 411
Houston, Texas 77036 United States
Phone: 832-377-7113, Fax: 832-827-4265
E-Mail: info@incenseplaza.com

---
Minimum Order: $25.00
About Our Company
Incense Plaza is based in Houston, Texas. Incense Plaza is a leading provider for Wholesale Incense Sticks imported from India.
We are authorized distributors, importers and wholesalers for Cycle, Flute, Lia, Rhythm, Woods & Parampara Incense Stick Brands.
Incense Plaza, provides you with superior products, excellent service at low prices.
We ship all orders within 48 Hours. We only ship to within the United States except Puerto Rico and Alaska
About Our Products
Cycle, Flute, Lia, Rhythm, Woods & Parampara are India's premier incense stick brand. India's largest selling incense sticks which is also exported to over 50 countries around the world. With over 100 Fragrances in stock.
We also carry Nag Champa & Sai Flora Incense Sticks.
We have Hexagonal Boxes (120 Sticks), Square Boxes (200 Sticks), Rectangular Boxes (180 Sticks). Our fragrances range from Florals, Fruits, Spice, Religious, Resins to Natural Masala Incense.
Flute Masala (compare with Nag Champa) has the largest selections in Natural Masala range.
Bring Home the Charm of India with Flute Incense
Minimum Order
Our current minimum order is ONLY $50.
Click on the link below to review a complete list of fragrances available:
==> FRAGRANCE LIST
Click on the link to review and post to our BLOG:
==> BLOG
Incense Plaza - 100's of Incense Fragrances to choose from.