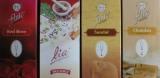 Incense Plaza
9777 Harwin Drive Suite 411
Houston, Texas 77036 United States
Phone: 832-377-7113, Fax: 832-827-4265
E-Mail: info@incenseplaza.com

---
Minimum Order: $25.00
(*) in price column means Quantity Discounts Available!
Click on item name to see full details and picture if available.

Item #
Description
Price
Unit
ASH CATCHER- Coaster
Ash Catcher - Wooden Coaster Type
Wooden Coaster Type Ash Catcher with Brass work

1.75
1pc
Boat Ash Catcher
ASH CATCHER BOAT TYPE WITH BRASS INLAY
Wooden flat Ash Catcher (Boat Type) with Brass Inlay. Sold in sets of 3pcs. 3pcs Ash Catchers with Brass Inlay - $1.75 Price: 1.25 Ship Weight: .75 lbs Category: Ash

1.99
3 PCS
Coffin Box
Coffin Box Ash Catchers
Handcrafted Wooden Coffin Box Ash Catchers with brass inlay on sides. Designs include Ylang-Ylang and Elephant

4.50
EACH
ASH CATCHER - Tower
Wooden Tower Ash Catcher
Wooden Tower Type Ash Catcher Box.

4.00
1 Tower Box
Incense Plaza - 100's of Incense Fragrances to choose from.