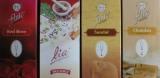 Incense Plaza
9777 Harwin Drive Suite 411
Houston, Texas 77036 United States
Phone: 832-377-7113, Fax: 832-827-4265
E-Mail: info@incenseplaza.com

---
Minimum Order: $25.00
(*) in price column means Quantity Discounts Available!
Click on item name to see full details and picture if available.

Item #
Description
Price
Unit
MYSORE SANDAL SOAP
MYSORE SANDAL SOAP
Mysore Sandal Soap 75gr. Mysore Sandal Soap is the only soap in the world made from 100% pure sandalwood oil, the oldest known perfumery material.

2.00
each
Incense Plaza - 100's of Incense Fragrances to choose from.