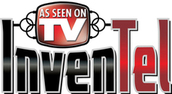 InvenTel Products LLC
300 Roundhill Dr. Ste 1
Rockaway, New Jersey 07866 United States
Phone: 862-437-1111 x 3306, Fax: 862-437-1114
E-Mail: Sales@InvenTel.tv

---
Minimum Order: $300.00
About Our Company
InvenTel has been a driving force in the DRTV industry since its conception. Building successful retail relationships is our specialty, and has been continuously strengthened throughout our long history, beginning with the introduction of the ?As Seen On TV? retail outlets, continuing with the unrivaled success of our OEM brand, and culminating in the decision to bring our years of knowledge and experience to the development of InvenTel Products LLC.
About Our Products
As Seen On TV products have more brand recognition and consumer awareness than regular products due to its extensive TV and Web advertising
Return Policy
30-Day Full Money Back Guarantee. All returns are subject to return shipping costs that vary by shipping method used in the original order.
Minimum Order
$300.00
Terms
FOB California
---
Return to our main website at https://www.wholesalecentral.com/inventel