INDEPENDENT RETAILER magazine is now the official news outlet for Wholesale Central visitors. Each monthly issue is packed with new product ideas, supplier profiles, retailing news, and business strategies to help you succeed.

See new articles daily online at IndependentRetailer.com.
WINCHESTER AMMUNITION introduces a limited edition collector's set of ammunition to commemorate 100 years of John Wayne, "The Duke." It is offered in three classic cartridges: 44-40 Winchester, 45 Colt, and 30-30 Winchester. The cartridges are designed with customized head stamps and in specially designed embossed packaging.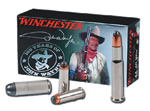 The cartridges come in boxes of 20 rounds each. Wholesale pricing is offered under various levels of dealer programs, based on quantity. The suggested retail price is $86.08 for a 40-44 Winchester unit, $46.36 for a 45 Colt unit, and $30.32 for a 30-30 Winchester unit.

The cartridge collection is licensed from Wayne Enterprises, founded to preserve and protect the name, image, and likeness of John Wayne by associating the John Wayne brand with quality and timeless products, and experiences that embody the spirit of John Wayne. The John Wayne name, image, and likeness, and all related indicia, are intellectual property of Wayne Enterprises.
Born in 1907, John Wayne created his legacy by starring in more than 170 films and earning an Academy Award in the classic Western movie, " True Grit." Wayne was a model of individualism and courage, who pursued his life with enthusiasm and generosity.
Along with the impressive career that made John Wayne a popular figure in American culture, a commitment to support the fight against cancer is an ongoing part of the John Wayne legacy. Winchester is making a donation to the John Wayne Cancer Foundation, in support of the fight against cancer.
For more information, contact:
Winchester Division
Olin Corporation
427 North Shamrock Street
East Alton, IL 62024
Tel.: 618-258-2000
Website: www.winchester.com
Entire contents ©2021, Sumner Communications, Inc. (203) 748-2050. All rights reserved. No part of this service may be reproduced in any form without the express written permission of Sumner Communications, Inc. except that an individual may download and/or forward articles via e-mail to a reasonable number of recipients for personal, non-commercial purposes.