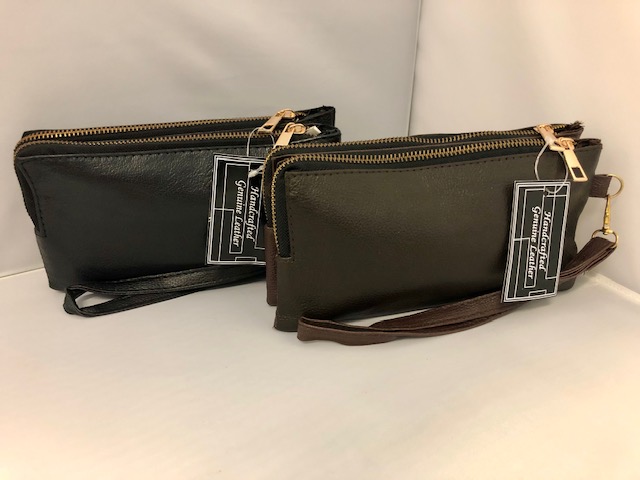 Action-Action & Action, Inc.
9349 Melvin Ave, Suite 9
Northridge, California 91324 United States
Toll-Free: 1-877-771-9988
Phone: 818-349-3456
E-Mail: https://leatherinchicago.mypinnaclecart.com/

---
Minimum Order: $100.00
About Our Company
Leather In Chicago, Inc. is an international manufacturer of genuine, hand-crafted leather products. Serving all parts of the globe for over 50 years. Leather in Chicago offers the best products for the price. Buy direct from the manufacturer and save money! Check out our online store... If you don't see what you are looking for, please call us at 818-349-3456 or send us an email.
About Our Products
All of our products are genuine leather in cowhide and lambskin.
Return Policy
** All sales are final for CLOSE-OUT items. All items are sold AS IS for all CLOSE-OUT items. No returns will be accepted. ** The customer is responsible for inquiring & confirming current information at the time of purchase. We are not responsible for orders placed before ANY price reduction. We will only exchange UNUSED defective merchandise within 10 days of your receipt of the products accompanied with the invoice under the following conditions: 1. We need to be notified of the manufacture defect item within 10 days of your receipt of the product. Unauthorized returns will NOT be accepted. 2. The product must not be altered to disguise as a manufacture defect item. Please pack your returns carefully. Returns are generally processed within 10 business days AS STORE CREDIT ONLY. 3. LIC does not provide warranty on any products that have been used, abused or physically damaged. Item(s) must be returned in original condition, unused, and have all original tags attached. Final approval of any return is based upon receipt and inspection of the product by LIC. Shipping and handling charges are non-refundable. Return or exchange shipping charges are the sole responsibility of the customer. 4. Any claim for defective items must be reported and receive an approved RA (Return Authorization) number via email at: Maria_leatherinchicago@yahoo.com All RA email requests must include the company name, invoice number, date, contact phone number, item number and reason for the return. All returns must be accompanied by a RA number and made within 7 days of the ship date located on the invoice. Returns without prior authorization / RA number will not be accepted. Indicate the RA number on the packing slip and ship to: 19365 Business Center Drive, Suite #6, Northridge, CA 91324. Customer will need to pay their own expenses to claim the package back or issue a call tag to pick up their refused package. Receiving department will not return packages to the customer. Return only items associated with the RA number. Additional unauthorized items or products will be refused and may result in the refusal of the entire return. SHIPMENT REFUSAL: If an order is returned, refused or unclaimed by the customer due to customer refusal, customer negligence / absence or customer providing incorrect shipping information, we will attempt to contact via phone and / or email if provided. If no response is received, the customer will be charged 25% restocking fee for refused orders in addition to one-way freight charges. All orders that require re-shipping at the request of the customer, whether returned, refused, unclaimed, or undeliverable will require an additional re-shipping charge.
Minimum Order
We require a minimum order of $100.00. We accept Visa, and Master Card.
Terms
SHIPPING METHODS: We ship via UPS, FedEx, and the United States Postal Service (USPS). Various shipping methods are available at time of order. Please carefully select the type of shipment you would like, the cost will automatically be calculated. The customer is responsible for the costs associated with the type and method of shipment chosen. Freight shipments are available. Please contact us via email and we can provide a quote based on time, weight, and distance. Leather In Chicago (LIC) attempts to ship within three working days of receipt of order. Please let us know if you need an order by a specific date and we can let you know the shipping options. CHANGES, ERRORS & INACCURACIES: Our goal is to provide complete, accurate, up-to-date information on our website. Unfortunately, it is not possible to ensure that any website is completely free of human or technological errors. Due to circumstances beyond our control, all prices, descriptions and availability are subject to change without notice. This site may contain typographical mistakes, inaccuracies, or omissions, some of which may relate to pricing and some information may not be complete or current. We reserve the right to correct any errors, inaccuracies or omissions after an order has been submitted and to change or update information at any time without prior notice. We sincerely apologize for any inconvenience this may cause. COLOR & PHOTOGRAPHY: Some items may appear slightly larger or smaller than actual size due to screen defaults and photography techniques.
---
Return to our main website at https://leatherinchicago.mypinnaclecart.com/