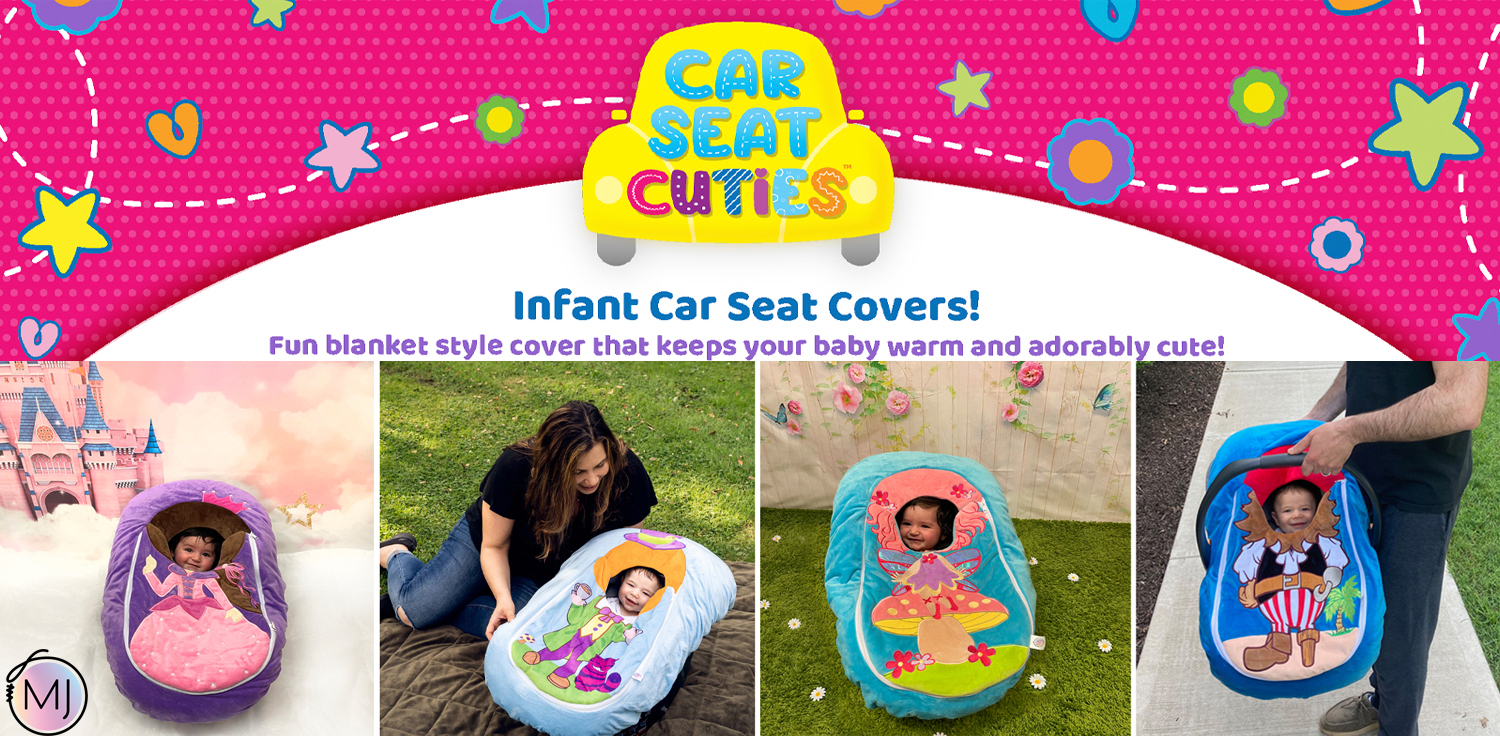 MaterialJill
1941 1st Avenue South, Suite 3F Seattle, WA 98134
Phone: 206-651-5375
E-Mail: info@materialjill.com
Minimum Order: $96.00
Introducing Car Seat Cuties, a new line of plush baby car seat covers!
Made of high quality fabrics that keep baby cozy while on the go AND they make a great gift!

NOTE: We do not sell product to Amazon Resellers

(*) in price column means Quantity Discounts Available!
Click on item name to see full details and picture if available.

Item #
Description
Price
Unit
00002-CB
Car Seat Cuties Fairy: Infant Car Seat Cover
Keep your little pixie looking colorful and whimsical with the Car Seat Cuties Fairy style. The stretchy elastic band fits around most infant carrier car seats and is for ages 0-12 mos. This machine washable car seat cover is super soft, easy to use and makes the perfect gift for all fantasy lovers!

16.00
6 pieces per case pack
00005-CB
Car Seat Cuties Frankenstein: Infant Car Seat Cover
Keep your lil' monster warm with Car Seat Cuties Frankenstein. The stretchy elastic band fits around most infant carrier car seats and is for ages 0-12 mos. This machine washable car seat cover is super soft, easy to use and a great gift. It's perfect for the Halloween season and trick-or-treating!

16.00
6 pieces per case pack
00004-CB
Car Seat Cuties Mad Hatter: Infant Car Seat Cover
Car Seat Cuties Mad Hatter style will surely leave your little one feeling silly and full of smiles! The stretchy elastic band fits around most infant carrier car seats and is for ages 0-12 mos. This machine washable car seat cover is super soft, easy to use and makes the perfect gift!

16.00
6 pieces per case pack
00003-CB
Car Seat Cuties Pirate: Infant Car Seat Cover
Ahoy! Car Seat Cuties Pirate will keep your little one warm and cozy during any adventure. The stretchy elastic band fits around most infant carrier car seats and is for ages 0-12 mos. This machine washable car seat cover is super soft, easy to use and the perfect accessory for your lil' shipmate!

16.00
6 pieces per case pack
00001-CB
Car Seat Cuties Princess: Infant Car Seat Cover
Keep your baby snuggled up and looking like royalty in our Car Seat Cuties Princess style. The stretchy elastic band fits around most infant carrier car seats and is for ages 0-12 mos. This machine washable car seat cover is super soft, easy to use and makes the perfect gift for any fairytale lover!

16.00
6 pieces per case pack
00006-CB
Car Seat Cuties Santa: Infant Car Seat Cover
The Car Seat Cuties Santa style is sure to spread joy and holiday cheer! The stretchy elastic band fits around most infant carrier car seats and is for ages 0-12 mos. This machine washable car seat cover is super soft, easy to use and makes the perfect gift for the season of giving!

16.00
6 pieces per case pack