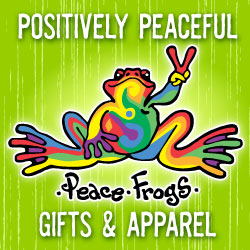 Peace Frogs
7546 John Clayton Memorial Highway
Gloucester, Virginia 23061 United States
Phone: 804-695-1314
E-Mail: catesby@mindspring.com
What is Peace Frogs?
In the words of one of our customers, "Peace Frogs is not icons or products, but really a state of mind." We couldn't have said it better ourselves. Peace Frogs is a full line of clothing, designed to help promote positive and optimistic thinking throughout the world. Our clothing places a premium on comfort, quality, and style, but it also allows you to spread a little bit of a positive feeling every time you wear it.