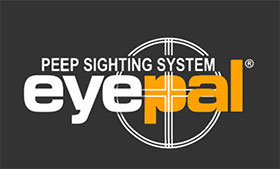 Resident Artist Studio LLC
438 Hill Road
Boxborough, Massachusetts 01719 United States
Phone: 978-635-9162
E-Mail: sales@eyepalusa.com

---
Minimum Order: $200.00
(*) in price column means Quantity Discounts Available!
Click on item name to see full details and picture if available.

Item #
Description
Price
Unit
331
EyePalŽ Master/Combo Peep Sight Kit for Iron Sight Shooters
The EyePal Handgun/Shotgun Peep sight kit contains two apertures, 1 Rifle and 1 Handgun/Shotgun that improves the visual acuity of the shooter's vision. About 60% of iron sight shooters have low vision issues. The EyePal Peep Sight kit retails for $24.95

* 12.50
each
For more information, go to https://eyepalusa.com.