INDEPENDENT RETAILER magazine is now the official news outlet for Wholesale Central visitors. Each monthly issue is packed with new product ideas, supplier profiles, retailing news, and business strategies to help you succeed.

See new articles daily online at IndependentRetailer.com.
BRANDY'S CANADIAN IMPORTS introduces Back2Me, a retractable steel leash that can hold any and all of the small items that clutter pockets and purses, and get lost in the clutter. The original Back2Me is a stainless steel retractable cable that stretches to 23 and one quarter inches long, and can contain attachments for a whole slew of items.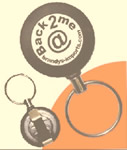 Among them are keys, pens, badges, lip gloss, cigarette lighters, key size zip drives for computers, pocket knives, lipstick, carpenter's pencils, small flashlights and pepper sprayers. The Back2Me has a hook or clip that can be attached to a belt or belt loop, making it easy to access.

A larger, sturdier version of Back2Me is also available. It is approximately 32 inches long and is a stronger reel, strong enough to hold 100 grams of weight. It is designed for use with cell phones, digital cameras, carpenter tools and other similar size items that people and professionals, such as hospital workers, carpenters and others, like to keep within reach.
These units also contain an alligator clip for holding ID badges. And the larger one is equipped with a locking mechanism.
Units of Back2Me are offered individually packaged for peg board display or in bulk. The latter come in a container that holds 36 units. Call for wholesale pricing and minimum quantities. The smaller unit has a suggested retail price of $3. Brandy's pays shipping and handling.
Brandy's Canadian Imports
P.O. Box 521625
Big Lake, AK 99652
Toll free: 866-733-2006
Tel.: 907-892-6867
Fax: 907-892-6887
Email: imports@mtaonline.net
Website: www.brandys-imports.com
Entire contents ©2023, Sumner Communications, Inc. (203) 748-2050. All rights reserved. No part of this service may be reproduced in any form without the express written permission of Sumner Communications, Inc. except that an individual may download and/or forward articles via e-mail to a reasonable number of recipients for personal, non-commercial purposes.