INDEPENDENT RETAILER magazine is now the official news outlet for Wholesale Central visitors. Each monthly issue is packed with new product ideas, supplier profiles, retailing news, and business strategies to help you succeed.

See new articles daily online at IndependentRetailer.com.
INTEGRATED MERCHANDISE GROUP have introduced, "Magic Staple Remover," a staple remover that contains an integrated magnet that holds the removed staples securely within the unit, preventing them from creating a mess on your a desk or landing on the floor where they can pose a safety threat.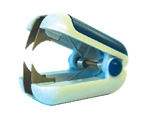 The compact plastic unit is roughly two inches long and a little more than one inch wide and deep. There is a removable top piece that slides back for easy, safe removal of the staples inside. When the magnetic strip is full, the top piece slides off so the staples can be removed.
Because the unit contains a magnet, it can be attached to any metal surface, such as a file cabinet or refrigerator. It can be kept within easy reach, and also doubles as a note holder.
Magic Staple Remover is offered blank in a variety of colors. It is also offered custom imprinted for use as a premium or for other promotional purposes. Pricing varies, depending on customization and on volume.
For more information, contact:
Integrated Merchandise Group International Ltd.
141 Halstead Avenue
Mamaroneck, NY 10542
Tel.: 914-835-7000
Fax: 914-835-7355
Website: www.imgintl.net
Entire contents ©2021, Sumner Communications, Inc. (203) 748-2050. All rights reserved. No part of this service may be reproduced in any form without the express written permission of Sumner Communications, Inc. except that an individual may download and/or forward articles via e-mail to a reasonable number of recipients for personal, non-commercial purposes.