INDEPENDENT RETAILER magazine is now the official news outlet for Wholesale Central visitors. Each monthly issue is packed with new product ideas, supplier profiles, retailing news, and business strategies to help you succeed.

See new articles daily online at IndependentRetailer.com.
SASSY PARASOLS provides hand beaded and decorated umbrellas. No two are alike, and each comes packaged in a box decorated to match the umbrella inside.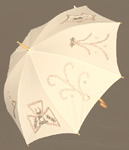 All of the decorations are sewn on by hand, and the decorations include mink, pearls, sequins, and crystals, in addition to colored beads. The umbrellas are high quality, traditional style, with a wooden handle and shaft, and they close with Velcro that is elongated to protect the decoration.

In open position, the umbrella is big enough for two. The base color options are red, purple, green, white and black, and yellow and chocolate brown are currently being added.
The minimum order is 10 units to start. The wholesale price ranges between $35 and $40 a unit, depending on decoration. And suggested retail price begins at $65 a unit.
These umbrellas are also available in custom designs at a premium. The custom units can include decorations that spell out names, initials and other messages, or any designated design and combination of decorative features. Qualified retailers may be eligible to carry Sassy Parasols on consignment.
For more information, contact:
Sassy Parasols
5109 Valley Ridge Avenue
Los Angeles, CA 90043
Tel.: 323-295-4087
Fax: 323-295-1875
Entire contents ©2023, Sumner Communications, Inc. (203) 748-2050. All rights reserved. No part of this service may be reproduced in any form without the express written permission of Sumner Communications, Inc. except that an individual may download and/or forward articles via e-mail to a reasonable number of recipients for personal, non-commercial purposes.