INDEPENDENT RETAILER magazine is now the official news outlet for Wholesale Central visitors. Each monthly issue is packed with new product ideas, supplier profiles, retailing news, and business strategies to help you succeed.

See new articles daily online at IndependentRetailer.com.
JEANNIE'S ENTERPRISES' Peanut Butter & Jelly Designs division introduces a new line for teens and young girls, beginning with new designer style handbags, inspired by high end jeans. The new brand, called SugaRoX, will eventually grow to encompass a longer line of accessories, all marked with a stylized X logo, which management says symbolizes change, and is positioned to help young girls develop a healthy body image and support self esteem.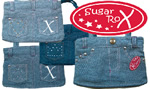 The opening product in the brand is a line of nine different styles of SugaRoX handbags. All are of denim and formed in the shape of a jeans torso, inspired by such high end jeans as True Religion and Sevens. All of the designs come in a choice of dark navy, sand wash blue and a light acid wash, blue denim. The handbags are about six by five inches and have a handle.
One of the back pockets carries the X logo and the other has either a star, crown or heart design. Each design is a permanent "bling" appliqué, outlined in the look of glittery crystal diamonds.
Soon the handbags will be joined by a series of coordinated belts and packages of appliqués and charms. The objective is to provide buyers with a variety of ways of personalizing their own handbag by adding individually selected charms, bling designs and scarves for the belt hoops.
A store merchandising display consists of wooden dowels, wrapped in denim with frayed edges. The bags, belts and appliqué and charm packages can all be merchandised from the displayer. The company will donate 10 percent of its sales proceeds from SugaRoX to women's support groups.
The handbags come in a minimum order of one dozen units. It can contain all units of one color, with an assortment of the three designs or units, all of a single pocket design in the three different denim colors. The wholesale price of the handbags is between $2.75 and $3 a unit, and the suggested retail price is $10. There will be six belt designs, and they will wholesale for $1.50 to $2 a unit, with a suggested retail price of $5.
For more information, contact:
Peanut Butter & Jelly Designs div. of Jeannie's Enterprises
44 Stedman Street
Lowell, MA 01851
Toll free: 800-654-5010
Tel.: 703-485-0386
Fax: 978-453-0513
Website: www.jeanniesent.com
Entire contents ©2023, Sumner Communications, Inc. (203) 748-2050. All rights reserved. No part of this service may be reproduced in any form without the express written permission of Sumner Communications, Inc. except that an individual may download and/or forward articles via e-mail to a reasonable number of recipients for personal, non-commercial purposes.