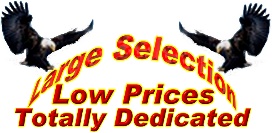 THE BARGAIN OUTLET WHOLESALE
Mail 608 S. 2nd Street
Marshall, Illinois 62441 United States
Phone: 217-822-6230
E-Mail: bargainoutletwholesale@gmail.com

---
Minimum Order: $100.00
62 items found: <Previous Page> Page [1] [ 2 ] [3] <Next Page>
(*) in price column means Quantity Discounts Available!
Click on item name to see full details and picture if available.

Item #
Description
Price
Unit
bb016812aa
Flying Knights Helicopter Assortment
Three assorted colors.

*1.20
Each (minimum 12 pieces)
fe.85-009v
Frosted 2 Tone Icy Hi Bounce Balls
1 3/8" (35MM) Frosted 2 Tone Icy Hi Bounce Balls.

*2.09
Dozen
insil16
Funny Face Ball Inflate_16"
Assorted colors and facial expressions.

*9.00
Dz.
fe.16/720
Jumping Bean Spoons W/ Zoo Animal Jumping Beans
Lots of fun making the Jumping Beans turn end over end up & down the long spoon.

*6.47
Unit
kiddieanrgs
Kiddie Animal Ring Assortment **Special Pricing***
6 Dozen assorted animal rings per display box.

*4.30
Per display **(SEE SPECIAL)
fe8254
Kiddie Card Game Assortment SPECIAL $3.60
2' X 3" Assorted Card Games...Hearts, Old Maid, & Fish.

*4.80
Dozen
inmta24
Mermaid Tail Inflate - 24"
Assorted colors. Colors may vary. Great for Mermaid-themed parties or pool parties.

*15.60
Dz.
kcthumbrclearance
Metal Hand Cuff Keyring - 3.5" *SPECIAL $4.59 **FREE FREIGHT
A.K.A. "Thumbcuffs". GREAT ITEM! SPECIAL $4.59 dozen. GO BIG or GO HOME!

*6.50
Dozen **FREE FREIGHT (6 dozen)
ngitdufopa
Ninja Glow In The Dark-UFO-Pattern Fidget Spinner Assort. $2.33
Get a lot of Bang for Your Buck! Now an even LOWER PRICE! Large selection of Fidget Spinners with less investment.

*2.73
Each (Minimum 72 pieces)
ppm
Paper Play Money .04
Play money in assorted denominations.

*6.02
per gross (144 pieces)
pillpuzwatch
Pill Puzzle Watch Special $6.75
Assorted...Green, Blue & Orange Pill Puzzle Watch. YOUR COST is ONLY .0469 each (See full description).

*11.75
Gross (144 Pieces)
fe.39/14V
Plastic Jumping Frogs *$2.25
Assorted Colors. Great for grab bags, piņatas, treasure chests, games, & more.

*2.80
Per Gross
kc004plu
Pooping Pig Keyring - 2" $1.00
Very Cute! Just squeeze...Watch the reaction of your guests (brown oozes out of his behind).

*15.00
Dozen (1 Dz. = Bulk) *(2 Dozen per display box)
indolrb
Rainbow Dolphin Inflate - 36" $16.20
Multi-color dolphin inflates. Very cute.

*19.20
Dz.
inunirb
Rainbow Unicorn Inflate - 24"
Colorful, bright unicorn balloon. We don't know for sure, but it's been said that unicorns are magical. A must for every little princess.

*21.00
Dozen
inunirbpc
Rainbow Unicorn Inflate - 24" *By The Piece
Very cute multi-color Unicorn inflate.

2.00
*Piece (Minimum 3 Pieces)
in-rifca
Rifle Inflate - 36" Camouflage Machine Gun
36" Camouflage Rifle Inflate.

*13.20
Dz.
jasecoir
Sequined Coin Purse Keyring $ 0 .48
4" X 3" Zippered Coin Purse with keyring is adorned with sequins.

*7.20
Dz.
slb
Shoe Lace Barrettes Special .3666
Neon & black and white barrettes.

*5.50
Dozen
3l361420
Silicone Walking With Jesus Bracelet
Assorted colors.

2.19
Unit (7 pieces)
ba321ni
Slap Bracelet - 3 D Glitter Animal Assort. *$0.525
Assorted 3 D animals in glistening rainbow colors on pretty slap bracelets. Special price on 3 D Animal Slap Bracelets $6.30 dozen (.525 each) minimum 4 dozen.

*7.55
Dozen (Minimum 2 Dozen)
241163fx
Smile Face Slap Bracelets
Assorted colors.

1.95
Dozen
4211CM
Sports Color Mirror *$2.50
Color mirrored lens with sports style wire frames. **See SPECIAL PRICING.

*12.45
Dozen *$5 Dz. Minimum 6 Dz. ASSORTED STYLES
rdsuper
Super Hero Rubber Duck - 2" *Special $4.00 **FREE FREIGHT
2? Rubber ducks with assorted super hero garb. Great for bath time fun, party favors, carnival prizes, duck ponds, & more.

*6.25
Dozen **FREE FREIGHT (6 Dozen)
tcgba
Treasure Chest - Grab Bag Assortment *$12.87
125 Piece TREASURE CHEST - Grab Bag Assortment. Assorted small toys.

*16.99
Per Assortment
62 items found: <Previous Page> Page [1] [ 2 ] [3] <Next Page>
This is a SECURE web site.
*Please remember that the lower amount of your order, the higher the freight ratio is. We have NO control over the amount charged by USPS or UPS on your freight. We're stuck with the high freight charges too, on incoming freight.
Orders are processed within 48 business hours (Pay Pal orders may require an extra business day).
*As an added security for your information, we DO NOT ask for the CVV number (last 3 -4 digits on the back of your credit card) online. In order to expedite your order faster, please telephone 217-822-6230 with the required information (9 A.M. - 4 P.M. CST)
Warehouse Visits: 24 Hour "Advance Order" online or by telephone required (you may add to order upon arrival). Warehouse visits by appointment only.
We NO longer accept orders by e-mail from unestablished clients.
TELEPHONE ORDERS: All telephone orders MUST BE backed up by a written order by email. NO EXCEPTIONS.
Like us on Facebook https://www.facebook.com/jaxfollies. Informational site: festival and special events, tips for your business, product info, pending legislation, SPECIAL DISCOUNTS for Jax Follies Friends and more.
Festival, Parades, Flea Market Info.: https://sites.google.com/site/jaxfolliesfriends